Over the last month between 11 to 18 July, there were lots of buzzes in the search industry. These revolved around volatility in Google search rankings. Many websites saw changes in rankings during that period, and interestingly, there is an official announcement of updates from the search giant.This was backed by both tools that track the Google ranking changes and SEO community that documents changes they see happening with their clients.
Changes in Google rankings
Search Engine Land, the tool that tracks Google rankings changes very closely backs the changes, and says, "There was a spike in "chatter," and it is obvious from within the SEO community on social media and within the discussion forums."
This is also backed by the leading tracking tools from SEMRush, Moz, Algoroo, RankRanger, and others, which show a similar pattern in the ranking fluctuation.
According to SERPMetrics, there was a big spike in the rankings between 16 and 18 July. Algoroo, another tool used to tracking rankings shows almost the same pattern in the ranking. Google desktop fluctuation reached to the risk level on July 18, according to RankRanger.
Why this fluctuation was happening around?  Let us see what Google has to say about this ranking volatility.
Search Engine Land's Barry Schwartz says, "I asked Google numerous times for a statement but Google has not responded."
But Google has pre-announced the June core update, and they said they would likely pre-announce the future update.
Google's John Mueller in a video hangout said, "I don't have any update news. I saw a lot of blogging and tweeting on updates, so I don't know what is specifically happening there. I don't know. I haven't chatted about this. So, not quite sure. But we always do updates. I think it is more about if this is one of those core updates and which month will it be called after."
So what caused the rankings fluctuation before the July core update? To find the answer, it is better to go inside what the data from various tracking tools have to show.
An insight into data of tracking tools
The tracking tools that close flow the rankings changes provide useful insight into these unconfirmed updates. The general opinion was that they were weird updates and so hard to find the patterns. Even when compared to previous updates, this one seemed different.
Here is what Mordy Oberstein from RankRanger said:
"There were a few interesting patterns (or lack thereof)" including some sites that saw a nice ranking increase during the initial roll-out of the update saw those gain reversed on the 18th and some sites saw a gradual increase after the June 2019 update (or even since the start of July) but saw those gain erased with this roll-out," he told Search Engine Land.  According to him, this update and all the reversals related to it was the update that did not go as planned for Google.
Below is RankRanger rankings fluctuation chart by niche and ranking position.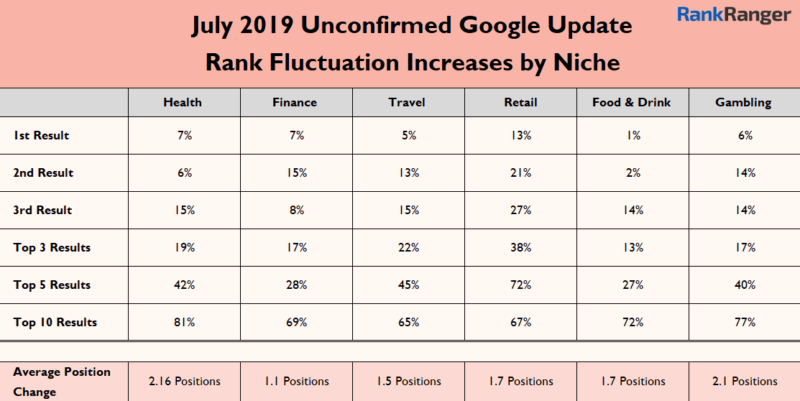 SEMRush also has some interesting data about June 18 ranking fluctuation. Based on some of the data, they would call this 'general update'. But here also, there was no specific niche that was affected by the update.
Marcus Tober from SearchMetrics also provides some data confirmed that there were changes. But he also said, "He can't confirm an update with the impact of the June or March core update." This means when he compared the biggest losers of this update to the July update, he saw no pattern.
" Some pages that lost during the last core update(s) saw some improvement in their visibility while some witnessed loss terms of traffic. But some bigger loser like Daily Mail saw no change at this update." Marcus said, "Google did some minor, but larger than usual tweaks on their algorithm, but no update that is worth to get a name or to call it "Core".
Some folks in the SEO industry call this officially unnamed update, "maverick update. Brett Tabke, the founder of WebmasterWorld was the first to give this term for the update. This is because the update looks a bit stealthy and precise. However, all the major tools reported the update has occurred and the impact has been on the rankings.
Why you should care about this update, and what to do
While it is rarely good to chase algorithm updates, and leading SEO folks also think so. But it is good to know when Google does an update- the update that may have impacted the rankings of your website.  But this learning about the updates does not mean you are going to do some technical changes to your website, and these changes will be helpful.  However, knowing that Google many changes may be helpful in some ways, like it is helpful in, on an emotional level, knowing that you are not alone when an update hits your web site.
The following two tabs change content below.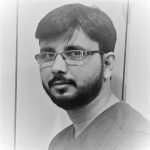 Dhirendra Kumar
Dhirendra Pandey is the Co-Founder & CEO of Media Search Group. He has been working in the Digital Marketing industry more than 10+years.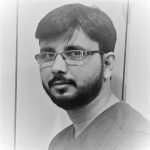 Latest posts by Dhirendra Kumar (see all)