Online shopping is fast soaring, but shopping at stores still remains the preferred choice for quite a large number of people. But rather than directly visiting a store to buy, they prefer to do research online before making a purchase locally. This means their decision to purchase is shaped by what they find online. BIA and research firm ConStat also found in a survey they conducted in 2010 that 97% of consumers research future purchases using online media. Of which 90 percent use search engines such as Google, 48 percent depends on Yellow Page, and 24 and 42 percent go with vertical sites and comparison shopping sites respectively. With that, it is pretty obvious having the right local SEO strategy will help target to that 97 percent of consumers and make them visit your store.
Brick 'n mortars are aggressively expanding their online channels to increase footfalls and sales. If you are not doing it, you are making a big mistake. Even big brands are seriously investing in local SEO marketing effort. According to Google, more than 1 out of 3 mobile searches are related to location alone. In simple terms, more than 1 out of every 3 three people who search using mobile are looking for local businesses. This is good news for local businesses who want to enhance their ability to compete with big brands.
An Overview of What Stats Say:
People are getting smart particularly when it comes to shopping. They now make more informed decision. SO rather going with brands, they want to get to know about all the options available locally. And the 'near me' search option of Google has changed the way people search a product or service online. More and more people are using 'near me' whether it is finding a grocery shop or a doctor or an eating station. The local searches including the 'near me' has increased by 40 percent, which seems to fast go up in the days to come.
According to studies, 20% of searches across all Google properties are local. And that is 40% on mobile. This means local searches happen mostly on mobile devices. According to Performics / ROI survey, 32 percent of respondents said they used mobile search "more than use search engines on their computer." And 78% of all local mobile searches result in offline purchase.
A report from IDC and YP also reveals the opportunity of local search for businesses. According to the report, 36% of respondents use search engines for local queries such as where to buy branded shoes for discounted price while 48% go straight to the verticals such as for hotel related queries, it is trip adviser, for restaurants and eating options, it is zomato, etc. But when it comes to products and services, people turn to search engine.
Those who use verticals also end up on the search engine as their second step. So local search is what plays a vital role in how people are doing offline purchases.
Below are some more local stats that provide a crucial insight into how important local search marketing is for businesses, particularly small and startups.
61% of mobile searches can contact a local business if they have a mobile friendly site
78% of mobile searches result in offline purchase
72% of those who do local search are likely to visit a store within 5 minute
18% of mobile searches end up in a sale within one day
88% of consumers making a local search trust online reviews
And 86% of people use Google Map to find the location of a business
Looking at above stats it is quite evident that local search plays a vital role in shaping the buying decision of consumers. It can be one of the most powerful tools for local businesses who want to increase their store traffic and boost sales.
Tips for How To Local SEO to Increase Footfall and Sales:-
There is not a thumb rule for increasing footfall to a physical store. Instead, you should make a strategy comprising of a few activities that work to increase your brand visibility in local search results. So here are some of ways you can make the best use of local SEO to boost offline store traffic, ultimately sales.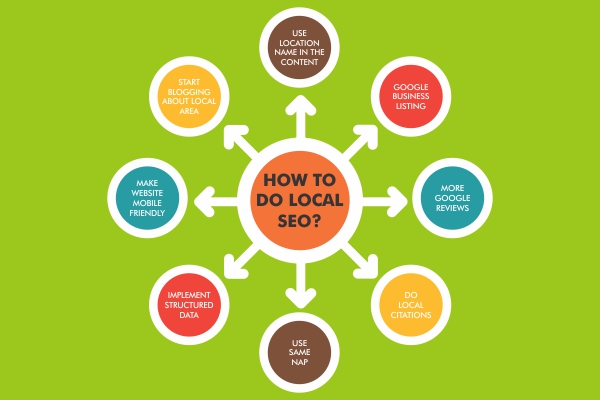 Use Local Terms People Use in Their Search Queries:
If someone who is looking for a restaurant in Manchester, they will use the phrases like 'restaurants in Manchester'. Other terms they can include eating places in Manchester, Dinging options in Manchester, etc. Or they can use more specific terms such as 'restaurants in city center, seaside, etc. So you need to find out those terms people are using in their local searches. And include them in your content.
Google My Business:
It is one of the most effective ways you can use to get found in the local search results. All you need to do is just create a profile on GMB. Google show top three results from its GMP page that are relevant to a query. To get your business show in those top three results, you should optimize your GMP profile that should include following information.
Correct address as on your website if you have any
Phone number that is in use
The opening time of your business
Use a link that redirect to your website
Use the right category for your business
Use the Same NAP across All Platforms:
Where your business is listed, make sure there is the same name, address, phone across all channels. Google My Business performs cross reference your business details available different platforms such as your website, social media profiles, and local citations.
Inconsistence NAP confuses Google and those who do local searches as well. Google also penalizes the businesses who have incorrect information on their Google My Business profile. Use the same NAP everywhere, from your website, social profiles, to local citations.
Implement Structured Data:
This is a snippet of code used in your website code. The structured data contains details such as business name, phone number, brand logo, website address, nature of business, price, etc, which help Google business decide if a search query is relevant to your business. So check if there is structured data added to your website code. If not, add it now.
You can create structured data markup, using Google markup helper where you need to simply enter your URL and add the information you want to include.
Add Local Citations:
A website that uses your business information such as brand name, address, phone number, etc is called local citation. Below are some examples of local citations:
Yell
Thompson Local
Trip Advisor
Yelp
Four Square
Facebook
Local chambers
Local newspaper websites
Niche specific website
Keep NAP consistent across all local citations. This helps Google to ensure the importation it gives to searchers is correct.
Get More Highly Rated Google Reviews:
Studies show that 88% of consumers trust online reviews as they do personal recommendations. With that, it seems that online reviews are very crucial for local SEO.
Those businesses that appear in the top three results of a local search have ratings under their name. Those that have higher ratings are likely to be trust by searcher more than those with poor ratings. So it is also important that your business have more 5 star ratings.
So for a customer to leave a review should not difficult. You can ask them to find your GMP profile in Google or create a personalized link that you can send them to it super easy for customers to leave a review.
Make Your Website Mobile Friendly:
40% of all local searches happen on mobile devices. This means if you are planning to dominate local searches, you need to have a mobile friendly website. So check how well your website performs on a mobile. Does it take more time to load? Does the content on your website fit perfectly on any screen size of mobile devices?
If your website does not load fast or the content on it does not fit perfectly to any screen size, you need to revamp your website and make it mobile search friendly.
So before you embark on optimizing your local SEO, make sure your website is mobile friendly and does well across all devices.
Start Blogging about the Local Area:
A blog section on your website is not just a way to keep your website fresh and update, but also it gives you an opportunity to connect with local customers by providing them information on locally happening events and activities.
So start blogging about local events, and make sure you use the keyword phrases that include the name of location wherein your business is. Creating blogs covering local topics provides your business an anchor in your area, and this will help you boost your local search visibility.
To Conclude:-
People are increasingly doing a local search to find an answer to their query. And the percentage of the people who are making purchase after a local search is also significantly high, which means having an effective local SEO strategy can help a business to increase not only footfall but also sales. And those tips that will extremely help you in achieving goals: to increase the store footfall and sales with local SEO.
The following two tabs change content below.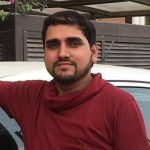 Amit Mishra
Amit Mishra, the co-founder of Media Search Group, loves to pen down about marketing and designing. Be it search engine optimization(SEO) tips and strategies, Social Media Optimization, Increasing Engagement, and Traffic Score, Web Design and Development, Mobile Applications, Conversion/Sales, he covers it all. Been in the business for a long time, Amit Mishra knows some of the best strategies on how to expand and grow a Business Online.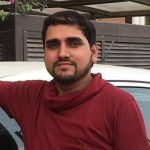 Latest posts by Amit Mishra (see all)