In 2020, voice search is going to be the most popular trend affecting not just a particular segment but the whole world. In fact, experts are saying that voice search is the new organic search, rapidly penetrating the lives of common people.
Several surveys, research, and studies were conducted recently to assess the impact of voice search on lifestyle, behavior, shopping pattern, and business. All of them suggest that voice-search may not be the death of text-based search, but a favorite search alternative among youth, adults, and even seniors.
List of 22 Voice Search Stats suggesting that the Voice Search Revolution is imminent:
The Demand and Use of Voice-Enabled Devices Are Increasing at an Exponential Rate. 
An increase of 200% YOY in the global smart speaker shipments is reported in Q3, 2019. To be precise, around 22.7 million units of smart speakers were shipped in just 4 months last year. While Amazon topped the ranking as a popular smart speaker brand in the world, Google closely follows it, especially in Western Europe. After that, the Chinese trio –Alibaba, Baidu, and Xiaomi, is making a strong presence in the domestic market.
It clearly reflects that consumers are progressively showing interest and recognizing the subtleness of the voice's user-friendly interactions. (Reference: Strategy Analytics)
The size of the Smart Speaker Market is projected to exceed $30 billion by 2024. On the other hand, global shipments are expected to increase at over 33% CAGR (Compound Annual Growth Rate) between 2018 and 2024.
This growth is attributable to the increasing need for more consumer convenience and network connectivity at a global level. Smart speakers will be integrated with intelligent home appliances, including humidifiers, thermostats, etc. (Reference: Global Market Insights)
As per OC&C Strategy Consultants, 55% of households will possess smart speakers by 2022. Meanwhile, Amazon is expected to dominate the new channel by the lion's share, i.e., more than twice what its close competitor has. (Reference: CISION PR Newswire)
1 out of 4 internet users is already using voice search every month. When it comes to smart speakers, there are great opportunities ahead, as 34% of respondents admitted that they are interested in purchasing a voice-controlled smart assistant. (Reference: Global Web Index)
Voice Search Will Have Dominion on E-Commerce Industry as We Will Go Through This Decade. 
The increasing inclination of people towards voice search will make this omnichannel a major disruptive force in the retail. The study conducted by OC&C Strategy Consultants shows that voice shopping is expected to reach $40 billion by 2022 from $2 billion (today).
The three most common shopping categories searched through voice are Grocery (20%), Entertainment (19%), and Electronics (17%). (Reference: CISION PR Newswire)
According to OC&C Strategy Consultants, around 85% of consumers are satisfied with the choices that Amazon suggests. It implies the status of "Amazon Choice" is expected to become important more than ever as it seems to have a firm hold over consumers' purchase decisions. (Reference: CISION PR Newswire)
There is a great potential for smart speaker shopping as around 56% of online grocery shoppers currently use/plan to buy a smart home speaker as compared to 47% of internet users aged between 16 and 64.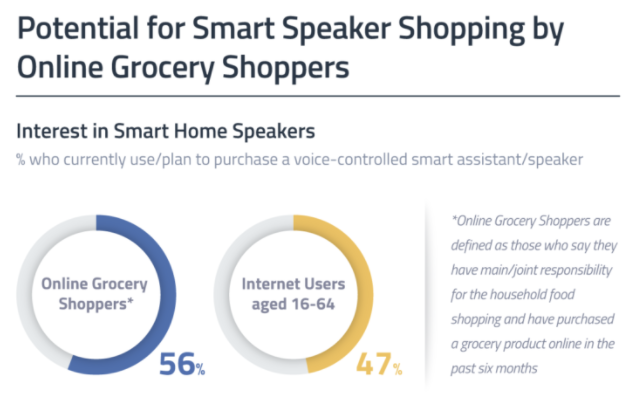 Image Source: Global Web Index
Thus, marketers need to align their targets by offering something new that proves to be beneficial in the consumer shopping journey, for instance, cooking advice or reducing hassle in shopping. (Reference: Global Web Index)
51% of people use voice search to research products, 36% to add products to the shopping list, 30% to track the package, and 22% make a purchase. (Reference: Narvar)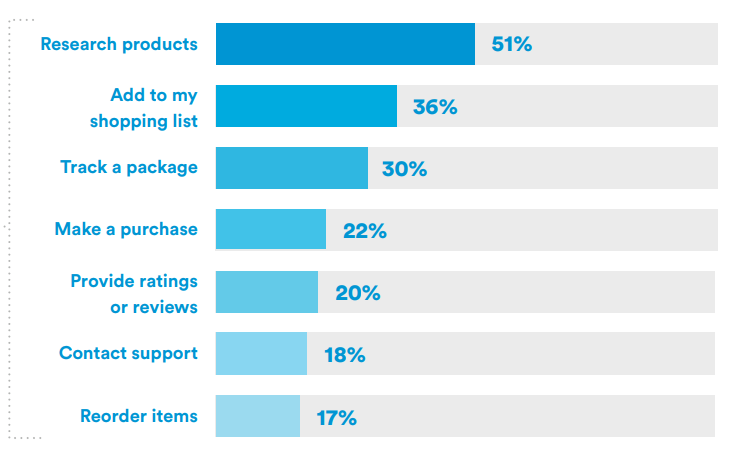 Image Source: Narvar Consumer Report 2018
As per Voicebot Smart Speaker Consumer Adoption Report, "voice shopping is the monthly habit for 11.5% (1 out of 9) of smart speaker owners". This data translates into 5.44 million Americans using smart speakers to buy products on a regular basis. (Reference: Voicebot)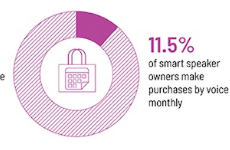 Image Source: Voicebot Smart Speaker Consumer Adoption Report
In 2017, Google shared that 48% of smart speaker owners are interested in receiving personalized tips and information about brands. So, one can guess that smart speakers are making people's lives better for the last few years and are expected to do this more at present and in the future. (Reference: Think with Google)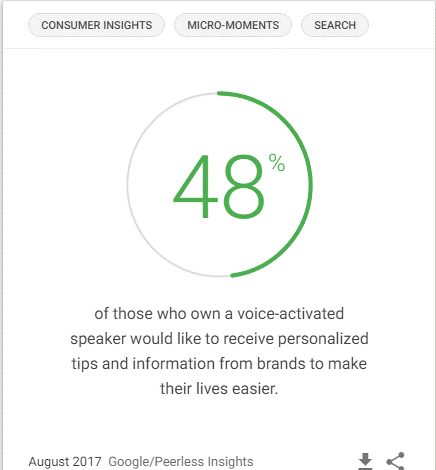 Image Source: Think with Google
Voice-Enabled Device Interaction Is Progressively Influencing The Consumers' Day-To-Day Life. 
General awareness of voice search is, unexpectedly, high. 90% of surveyed people were aware of voice technology, and 72% of them have used a voice assistant. The adoption of this technology is more common among younger consumers, households with children, and households with an income of more than $100k. (Reference: PwC)
Even though the younger generation is adopting voice technology much quicker than its older counterpart. Younger generation people are, statistically, less likely to use voice assistants. On the contrary, people aged between 25 and 49 are using their voice assistants more often and are considered to be heavy users. (Reference: PwC)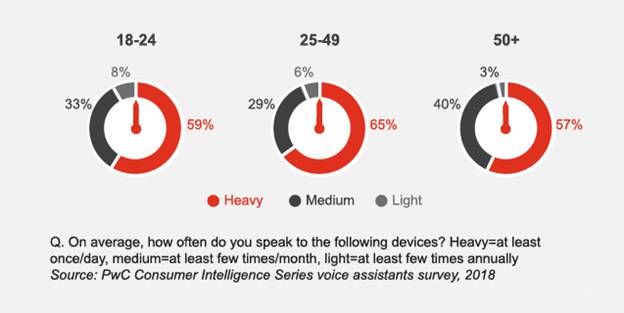 Image Source: PwC Consumer Intelligence Series Voice Assistants Survey, 2018
3 out of every 4 consumers use their mobile voice assistants at home (that totaled to 74% of the consumers). 35% use voice to check weather and news, 33% play music and 32% search for something that they usually type in a search engine on a daily basis.
Apart from this, 31% of consumers daily use voice to send a text or email, and 29% to ask a quick question. (Reference: PwC)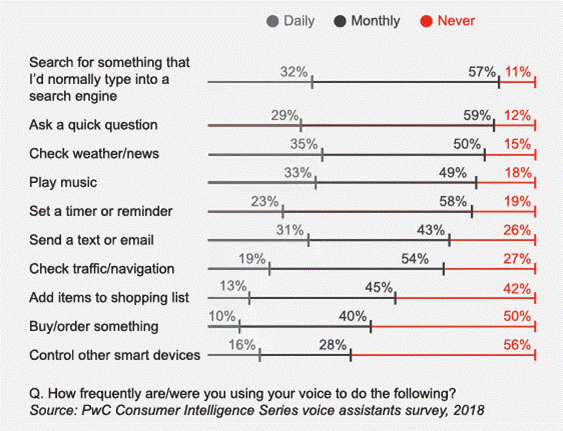 Image Source: PwC Consumer Intelligence Series Voice Assistants Survey, 2018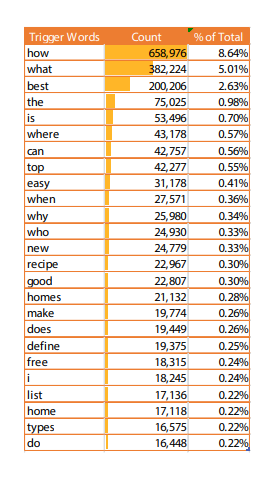 Image Source: seoClarity (The Next Generation of Search: Voice)
In the beginning, when Siri and Google's voice search was introduced, it was common for queries to get misinterpreted. However, the accuracy rate for voice-search platforms has risen to above 90% for the last few years and is expected to increase more. This improvement is encouraging more and more people to do simple tasks via voice search on a daily basis.
50% of voice assistant users agreed that the use of smart speakers helps them feel organized, 45% informed, 37% happy, 35% smart, 31% confident, and 30% free. (Reference: PwC)
Voice Search Has a Direct Impact on Local Search.
22% of voice queries are made about local information, such as directions, restaurants, local services, shopping, local events, etc. As a result, local is the most significant commercial intent among voice searches. (Reference: seoClarity)
46% do voice search to seek information about local businesses daily. Besides, 27% visit the website of a local business after performing a local voice search.  (Reference: BrightLocal)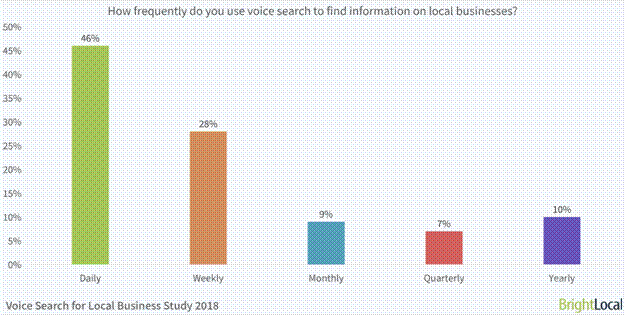 Image Source: BrightLocal Local Business Study for Voice Search, 2018
Optimizing Content for Voice Search Can Help Drive More Calls and Customers
Caller retention rate is 28% higher than web lead retention rate, and caller converts 30% faster into a customer than web leads. (Reference: Forrester)
So, How Can You Achieve More Lead Conversions via Voice-Enabled Devices and Voice Searches?
Since voice searches tend to be longer than traditional text searches, businesses should optimize their content for long-tail keywords and queries that are more likely to be spoken out loud by people.
Even though voice search keywords and queries are not the same as that of text searches, the same SEO strategies and principles apply. Thus, businesses should stick to the best SEO practices to get higher SEO ranking.
Optimize the content for local searches and include easily accessible contact and address information. Update your Google business listing, and add "near me" in the title tags, meta description, and anchor text.
Make a list of questions that most consumers ask about your business, products, services, and relevant things before making a purchase and add them to your website for improving SEO and CRO.
Perform a call analysis to find out whether you should retarget a caller and with what ad campaign. Evaluate how well each location is bringing more conversions from calls and what tactics worked in your favor.
The voice search revolution is going to become more prominent in the future. Using it to your advantage and getting prepared for it as early as possible will help you stay updated, more relevant, and surpass those who are resistant to neoteric changes.