There is no denying that SEO professionals, bloggers, and digital marketers have always been curious about how to rank their page on Google's first page. Whether someone is a social influencer who writes about his/her life experiences or a legal advisor who shares information to help people get out of their ordeals or an SEO personnel working in a digital marketing company who puts efforts in ranking websites for dozens of businessmen, the complete recipe to rank higher in SERPs has always been a mystery for everyone.Though Google has been reluctant to reveal how its ranking algorithms work, it has also been a bit lenient as it rolls out a few useful guidelines and essential insights about ranking and SEO now and then.
On December 5, 2019, Google released Search Quality Evaluator Guidelines (that you can download here).
[Download link: https://static.googleusercontent.com/media/guidelines.raterhub.com/en//searchqualityevaluatorguidelines.pdf]
Since the release of these guidelines, people are raising various questions such as:
Does E-A-T directly impact the ranking of a website? 
Is there an indirect relationship between E-A-T and website ranking? 
Can E-A-T increase the chance of visibility in SERPs?
What does YMYL mean for my web page?
Why should I care about YMYL while hiring Main Content (MC) creators or sharing some information?
If you are also trying to find answers to these questions, you can relax as we are going to cover them in this blog.
Let's first talk about E-A-T and its related facts and possible deductions that one can conjure after reading guidelines.
What does E-A-T exactly mean? 
E-A-T is an acronym for Expertise, Authoritativeness, and Trustworthiness.
It is a paradigm used by human Google raters for the assessment of websites, web pages, and content creators as a whole. It means understanding what E-A-T refers to is of great importance for you.
According to the shared guidelines, websites or web pages that have no beneficial purpose, do not benefit readers in any way, or spread hatred, cause harm or swindle users should get the Lowest Ranking. 
Here is the screenshot of an excerpt from Google's Search Quality Evaluator Guidelines:

So, if you want your page to receive high ranking, you need to incorporate expertise, authority, and trust in your website as well as the content.
Let's take a look at each of these parameters separately.
Expertise
The content of your website should be created by people who possess the necessary knowledge and have a better understanding of your field. However, it doesn't mean that the content creator always has to be an expert or a degree holder in every case.
For instance, if you have a blogging website to share useful information about your life experiences that can genuinely help other people, your website will, still, be considered by Google. Why? It's because Google has made an exception for everyday expertise.
On the other hand, if you have a website that tells people about treatments for certain diseases, healthy and precautionary tips, and medications, the content should be created by someone who has expertise in the medical field.
The main point is to find the true purpose of the page and produce content that is valued by readers of that category. Providing incorrect, misleading, outdated, incomplete, or useless information can hurt the ranking of your page.
Right from the beginning, the primary purpose of Google is to present information that helps, guides, and updates users in the most accurate manner. If you aren't doing that, it means you are gradually being kicked out of the league of their consideration.
Authoritativeness
While expertise refers to having quintessential skills or knowledge on a particular subject, authoritativeness is more like having an online reputation.
Let's assume you are just a random blogger telling people whether some medicine is right for them to treat a specific disease. In this case, you don't have authority. Why? You didn't get a degree in medical science and you are not a doctor. However, if you are a doctor, practice at some recognized hospital, then you have the eligibility to write about this topic.
This is not all that counts for authoritativeness.
How popular you are and how much recognition you have earned online also plays a substantial role in developing your authority. 
Authoritativeness also encompasses what actions people inside and outside your industry take when they recognize the expertise. That recognition can be identified in the form of links, mentions, shares, reviews, or any other citation.
The one key factor that goes along with authoritativeness is that if you are an authority, you should have either expertise or trust, preferably both things. Authoritativeness never stands alone.
Social media Klout is another element of authoritativeness. There are ways that point out authority in social media profile, such as, number of shares, followers, and reviews, time period on social media account, the coveted verified check, and so on.
Here is the example of twitter profile of Sundar Pichai. You can notice easily the coveted verified check, his designation, joining date, followers, and number of shares, likes, and comments.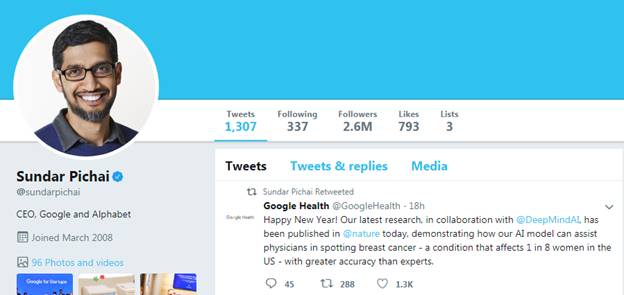 Many of these metrics can be easily faked. But when all these metrics are combined together along with some social proof (as shown in this profile), it clearly states that the person has authority in the industry.
Trustworthiness
All of us know that trust cannot be built in a day or by one justified action. It takes time and a lot of hard work to earn the trust of people and Google as well.
When you expect people to invest in your business, buy a product from you, or visit your blog regularly, you need to give them something to build trust. Since people have to feel that they can trust a brand or some advice, Google wants to rank those websites and pages that it can trust.
To increase trustworthiness, the easiest thing you can do is to share and highlight the credentials of content creators and websites.
Awards, testimonials, endorsements, certifications, and various other factors are there that can help you build trust among people (and Google).
E-A-T also has its ties with the YMYL concept.
What does YMYL mean?
Google categorizes the web pages that sell products, impart services or share information that could potentially impact a person's future happiness, health, financial stability, or safety as "Your Money or Your Life" pages.
The topics covered under YMYL pages are:
News and current events about international events, business, politics, science, technology, etc. (news related to everyday lifestyle, sports, and entertainment are not included in this category)
Civics, Government, and Laws related information that covers topics such as child adoption, divorce, custody, will creation, etc.
Financial information or advice about investments, retirement planning, insurance, loans, banking, taxes, etc.
Shopping pages that allow people to make a purchase online and pages that allow people to transfer money
Health and safety advice about medical issues, drugs, hospitals, or emergency preparedness
Information related to groups of people about their ethnicity, race, religion, disability, age, nationality, veteran status, sexual orientation, gender identity, and so on.
Topics that involve big decisions such as housing information, fitness, and nutrition, job search, college selection, etc.
Google has very high Page Quality rating standards for YMYL pages because low quality can harm users in a variety of ways. 
Thus, remember that if your web page falls under the YMYL category, your content must not have a negative influence on happiness, financial stability, health, or safety of people in any manner. Have content creators who are enriched with expertise in the required field.
Take care of your readers, users, and followers and make them feel safe. And, E-A-T is the way to do it.
Role of E-A-T in SEO
The answer to whether E-A-T directly or indirectly impacts the ranking of a page is not straightforward.
However, it can be concluded from the above information that E-A-T is playing a great role in Google's organic search results.
According to the Guidelines of Search Quality Evaluator, Google considers high-quality pages that have:
High level of E-A-T (Expertise, Authoritativeness, and Trustworthiness)
A satisfactory amount of high-quality MC (Main Content) along with a descriptive and helpful title
Sufficient information about the person responsible for the website.
Satisfying customer service information if a page is primarily for shopping
Positive website reputation and information of the content creator responsible for the main content of the website, if different from that of website
The web pages (and YMYL pages) that have high-quality content will have a high E-A-T level. So, your primary focus should be on creating content that your target audience wants or needs.
How to Demonstrate High-Level E-A-T in Your Website? 
To amp the on-page SEO, we are sharing some of the best practices to improve the E-A-T level of your website:
Share information about the Author of the Content with a Byline & Bio
Google advises people to create content with journalistic professionalism, which means every piece of content published on your website should have the writer's name and byline.
If the author is a recognized expert in your field, highlight his/her biographical details. Apart from this, you can also create a separate bio page and add an excerpt from it at the bottom of the content (the author's box).
For better understanding, let's take an example of a popular website wikiHow. You can easily check that, at the end of the article, it has shared who helped in creating content, what the author does in real life and other useful information. Besides, it has also mentioned how many times the article has been read.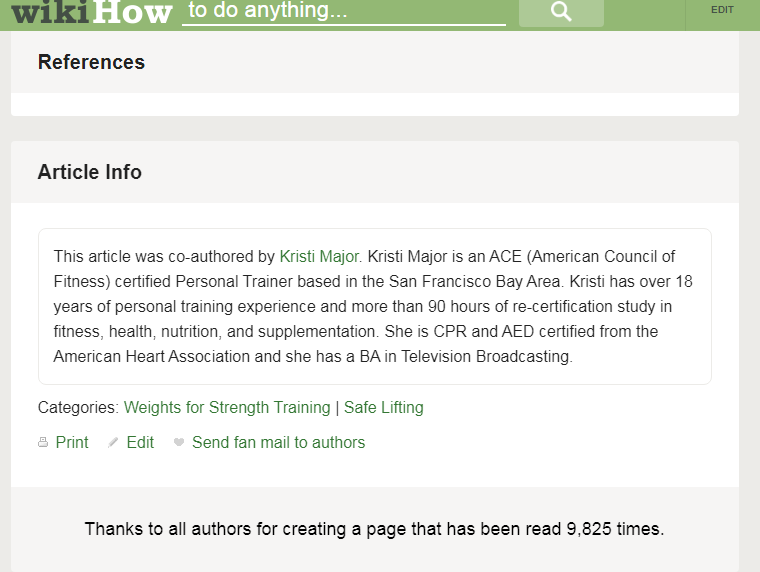 This is what creates authoritativeness, trust, and display the expertise of the author.
Providing essential information of the author such as full name, headshot, title/position, a detailed bio, and contact is an excellent way to build trust in the eyes of your readers and Google. 
Highlight your contact info so that users can easily spot it
You need to keep in mind that Google's E-A-T framework assesses your website as a whole. So, make sure you highlight About Us, Contact Us, and even Customer Support page link in the main or footer navigation.
Check another example of a home page of a Digital Marketing and SEO company website. You can easily spot About Us and Contact info at the top of the page. Highlighting information about your company and contact information in this manner is a good strategy to build trust and avoid shadiness.

If there is no such page on your website, make them now. There is no leverage for sites that don't reveal such information.
Eliminate or Refine Your Low-Quality Content
We have told you above what high-quality pages look like. Low-quality pages are the opposite of that. Deciding on whether to remove or refine the existing content can make a significant impact on the traffic.
If your content is no longer useful or really terrible, don't waste time in improving it. Remove it immediately. If it can be improved, updated, or refined with little efforts, only then you should devote your time to the old content.
What to do to raise E-A-T level:
Assign a more authoritative person to create content
Add quotes from trustworthy sources, citations and experts
Improve the readability, grammar, spelling, and structure of content
Ensure that the content is comprehensive
Write a new and engaging title
Add visuals, charts, screenshots, and links (and optimize them)
Add a video if possible for people who prefer videos than textual information.
Provide Insights from High-Quality Thought Leadership 
The reputation of your brand matters a lot. Otherwise, people won't give a try for your products or services and Google, as well, will not consider your website as trustworthy.
In this case, you can benefit from thought leadership. Share insights, tips, and tricks that your customers, consumers, users, or readers find helpful and valuable.
Final Thoughts
Google disclosed that E-A-T applies to all kinds of websites whether they are gossip websites, fashion websites, news journals, sports websites, humor websites, or discussion forums.
If your website incorporates a high level of E-A-T framework, there are higher chances that your page will appear in SERPS and so is true for vice-versa.
In the end, we will recommend you that if you, yourself, don't have expertise in some topic that you want to share through your web page, it's best to hire subject matter experts who can dig deep into the topic and share valuable information.
Stop sharing irrelevant, incomplete, and misleading information that is of no value for your users or can harm them.
Ensure that your web page has high-level E-A-T because even if E-A-T is not a ranking factor and you are following Google's E-A-T guidelines, it means you are creating content that your readers want or help them do some task safely.
In other words, you are ensuring high customer experience that ultimately helps you rank high in Google, drive more traffic, and gain conversions.
The following two tabs change content below.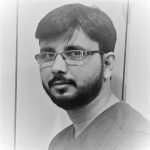 Dhirendra Kumar
Dhirendra Pandey is the Co-Founder & CEO of Media Search Group. He has been working in the Digital Marketing industry more than 10+years.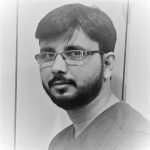 Latest posts by Dhirendra Kumar (see all)