Virtual Reality has proved by now that it is not just a passing fad. Just looking at the hype surrounding it and the viral videos of mishaps and wonders of VR are enough to point to this technology leading the future of interactive content.
Many web design professionals are passively following the developments in VR. As a prudent designer or digital marketer, the question should be whether you should be taking Virtual Reality more seriously and if it has a significant impact on web design in general. The quick answer to this question is "Yes" and this post attempts to demonstrate why you should take a more pro-active interest in VR.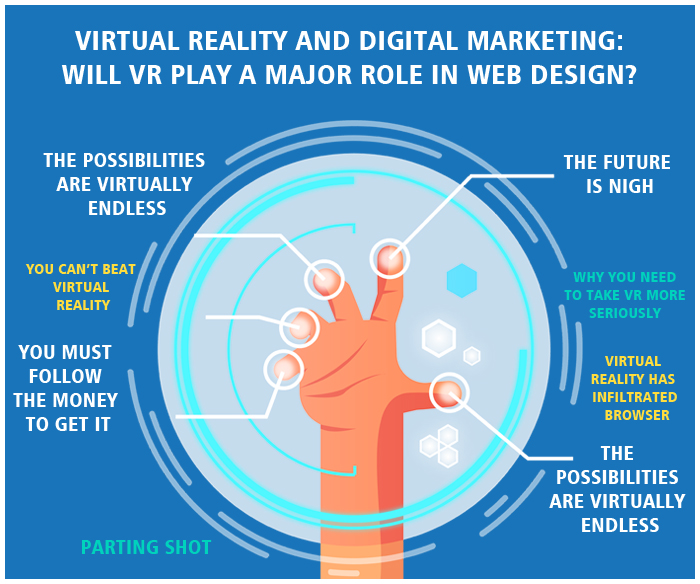 The Future is Nigh
Think about it, just 10 years ago, the idea that people would be primarily consuming content on their phones was laughable. Within a very short time, e-commerce websites that had not embraced mobile-friendly development suddenly found themselves shut out. Yet, all the signs were there. The same is happening with Virtual Reality. For now, it may seem far removed from web development outside of the gaming industry. The writing on the wall tells an entirely different story. If you are waiting for the future to fully embrace VR, here are a few reasons why the future is closer than you think;
Developers already have access to Microsoft's Holiness
Gamers can pre-order Sony's PlayStation-VR
VR hardware is available for purchase for under $100 (Think Samsung Gear)
Google Cardboard, though rudimentary at best, costs under $15
You can now make your own VR glasses (quality and VR experience is, of course, subject to question)
The point is if you think VR hardware is expensive and out of reach for the ordinary consumer, it is time to re-think your position. The hardware is now readily available. There is serious development going on in the industry and every indication is VR hardware will become more sophisticated and cheaper. The real question is whether content will keep up with the progress.
Why You Need to Take VR More Seriously
The availability of VR hardware isn't the only reason why you should seriously consider VR in your digital marketing efforts. If you are still not convinced, there are many more reasons why the future of online content is interactive and leaning heavily on the side of virtual reality.
Virtual Reality has Infiltrated Browser
Just the other day, the only way to interact with virtual reality on the web was to download an app and purchase a headset. Today, WebVR is a thing. Web browsers including Chrome and Firefox are already launching VR ready browsers. All the visitor needs to do is click a button. No need to download any software or app or tinker with settings.
The Possibilities Are Virtually Endless
It is hard to think of limits where Virtual Reality is concerned. Shoppers can take a virtual tour of an online clothing store, gamers can fully immerse in the gaming experience, those simply looking for information can have concepts brought to life, and movie lovers can interact with content intimately. The point is VR isn't just for a certain kind of consumer or a very specific industry. Any content can be brought to life and that's the magic. You can take advantage of this technology to advance your digital marketing strategy and do something unique before the competition has stirred from its slumber.
You Must Follow the Money to Get It
If you want to know where the money is, follow those who know about money. It is hard to find someone more adept at money than venture capitalists. Huge-name venture capitalists are throwing money at VR development wholeheartedly. Why? Because they expect returns. Projections indicate that the VR market will be worth more than $150 billion by 2020.
The advice here is simple, if you want a piece of the pie; you have to play your part in the kitchen.
You Can't Beat Virtual Reality
The main reason why VR cannot be compared to any other kind of content is the experience factor. It is one thing to read or hear; but to experience is a whole new world. You cannot convince or accurately describe the experience. It has to be experienced. A consumer reading about the cool new clothes you have in your online store is one thing, but allowing the consumer to take a virtual tour and even try on some shoes is a whole other world. It is difficult to imagine any other type of content that can compete on the plane of virtual reality. VR doesn't compete with other types of content, it dominates.
Bonus: If You are looking for ROI based Low cost Digital Marketing Services for your business. Here, We are the best in Advance and Trend Marketing technique with Maximum ROI.
Parting Shot
You don't have to scamper to integrate VR to your web design. The point here is that you need to take an active interest in Virtual Reality and the direction it is taking. Find out as much as you can about this exciting new technology, and think of strategies on how you can employ it to your digital marketing or web design. At the very least, you need to be aware of what is happening and the impact it could potentially have on your business.