Generating Content Inspired by Numbers
Webmasters and SEO business owners rely heavily on keyword generation to create compelling content that is likely to draw traffic. However, there are times when you run out of suitable keyword variations, yet you still have to create compelling web and SEO content. So, where do you get your inspiration when you run out of words? This is when numbers and data come in handy. What people do not realize is that data can be a good and precise source of writing inspiration if you understand the relate, expose, share and surprise principles.
The expose principle
If you have a well-established website or online business, then you most likely generate unique and first-hand data that you can expose to your followers. The unique data might be from your rank tracking service provider, raw user data from your forum or analytics. You generate content that translates to enviable traffic and solid backlinks by tapping your huge data resources for unique information offered by your followers. Use the data you gather to create a straightforward yet unique blog post directed towards a specific demographic. If you do not have enough traffic or customers on your website to offer useful user data, here is where to search.
Adwords data, Google Analytics and Search console data: these are data platforms that showcase search trends. The keywords people search during certain times of the year, holiday or events. This information can be used to come up with persuasive content that targets customers within your region. The information gets interesting if there is an event, festival or holiday that makes your data unique from other parts of the world.
Sales data: when do your sales inflate? Is the inflation triggered by certain events or do they occur as a result of different keyword variations? Use tools like Google Correlate to determine keyword variations that follow the similar pattern as your available data.
Survey data: use your lead and sales history to roll out surveys and generate insightful information that you can use to generate content. Surveys give you an insight of the content your followers yearn for and how best to deliver it.
There are numerous online sources of unique data that your business can benefit from; you just need to look in the right places, stay focused and up-to-date with the ever-changing industry trends.
The relate principle
Web data is machine language that is essential, yet nobody talks about it. Therefore, to bring it out and make is useful for boosting your online business, you must make it relatable to your readers. When analyzing your data, do not just focus on the figures and what they say but try to understand what they say to you. Data is a way of determining what your customers feel about issues you address. So, make it relatable by organizing it under how people identify themselves.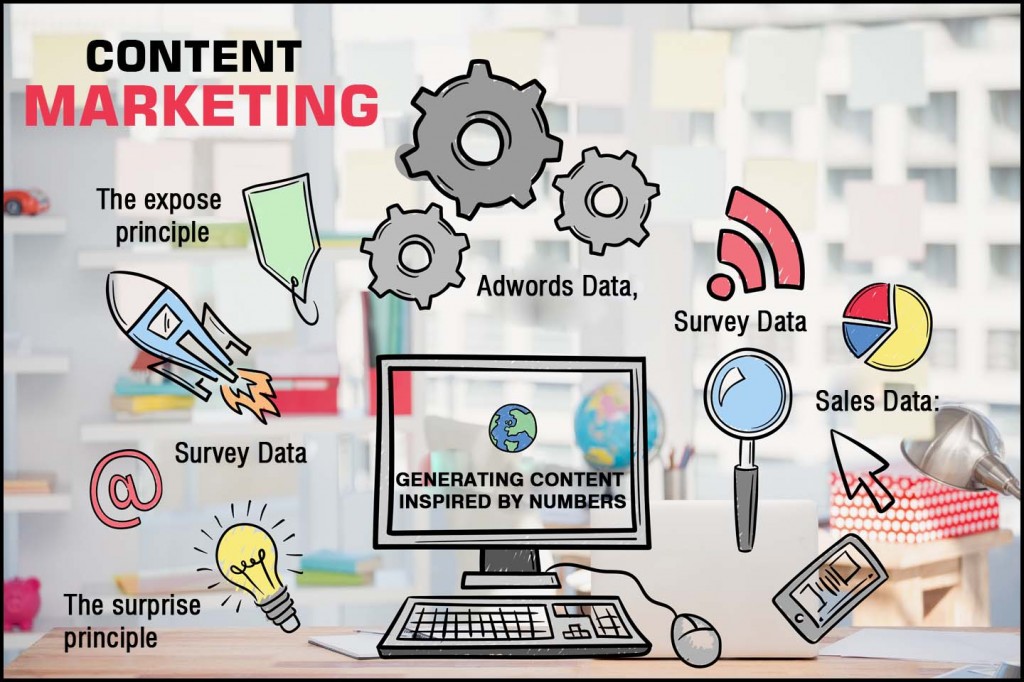 People can identify themselves through economic, social, geographic, cultural or biological merits. For instance, you can use Google Adwords to gather data useful for creating content that should be relatable to all your potential clients globally. A detailed Adwords campaign will enlighten you on how your customers from different parts of the world prefer to read your content. You understand how you should break down your content for different consumers and industry areas to focus on in order to attract clients from a specific sector or location.
The surprise principle
The greatest benefit of using data-based content is having the rare chance to surprise your readers. Everyone likes learning new facts helpful at making life better, demystifying controversial topics or simplifying their current problems. But, how do you make your content fascinating? Start by having a unique perspective regarding a trending, controversial topic or statistical data. You need to spice up available data to make it feel interesting on its own.
For example, if you are writing content that must be highlighted with a graph, try to make the graph extraordinary. You need to give the reader some shocking or unique data information that they did not know about. A fascinated reader will want to be the first to share the fascinating information with their followers. This way, you generate more traffic, readers and potential customers to your website. Use controversial topics and relate them to what your online business does. For instance, there was an online uproar about the money set aside to fight and eliminate polio globally by the year 2018.
Most people though that $5.5 billion was too much and should be re-evaluated. At the high of the debate, an intriguing content piece titled "People spend the $5.5 billion polio fund on iPhones bi-weekly." As much as the content will not discuss the trending polio topic, it will capture people's attention and most likely change their perspective. The post would also get numerous shares globally which will translate to more web traffic for you.
The share principle
Most webmasters overlook the sharing principle oblivious of how helpful it can be in boosting business. Once you have created unique and intriguing content, give your audience a chance to sell your business agenda by providing the data set you used. You may be surprised at how many people are hunting for reliable data sets online. Such people will utilize your data, cite or hyperlink your content in their publications. This means that their readers will end up in your website to either verify the data sets or read the cited content. Both scenarios will be a win for you.
Summing Up
When a webmaster combines the four data principles, they reap high readability, traffic, and shares. This is because you get to focus on consumer specific content for interesting results and patterns. Start with the data at hand or dig through reliable data resource sites. Generate a suitable story based on the numbers available and relate the story to your audience making comparisons with trending topics or their strong topic perspectives. The right data based content will cut through barriers to deliver the much-needed web traffic.