Facebook always wins the race when it comes to advertising. Why??
The latest 2020 data by Broadband Search revealed that around 1.4 billion users use Facebook every day and watch 8 billion videos daily. The number of active users and the number of videos watched by them on a daily basis is significantly higher than any other social media platform. That's why Facebook advertising is growing in popularity among online businesses.
Besides, Facebook is also increasing its offerings and functionalities to help businesses advertise, increase visibility, and reach targeted customers. You have various Facebook tools at your disposal to advertise and connect with your consumers. Some of them are:
Facebook Shop (also allows shopping on Instagram via tagging and stories)
Once you go through all these Facebook offerings, you will find that Facebook is, indeed, building a full-fledged online marketing platform for businesses to increase access to consumers worldwide.
Therefore, it's the right time to jump into the Facebook advertising game and gain a competitive edge while you can. Once every small company starts using this platform, beating them could be pretty difficult.
"How do I set up my brand online through Facebook Advertising?"
Each business is unique and has a different culture, goals, and budget. However, you can easily create an effective strategy once you have answers to a bunch of questions stated below.
How much budget should I allocate to Facebook advertising?
Which advertising tools and ad types should I prefer?
How to create an effective strategy to build a large audience?
This guide will help you navigate the answers to all these questions. So, without any formalities, let's begin the quest.
Facebook Advertising Cost and Budget
It is said that Facebook amplifies what is already working for your business, for example, SEO, AdWords, email, and other digital channels. In short, whatever you are already doing to build your online presence, Facebook will increase its efficiency.
Big companies even spend thousands of dollars, but not every business can afford that. Especially if you run a small business, you are not likely to afford or spend this amount of money just for Facebook advertising.
So, here is what you must focus on while creating a budget.
Sales Funnel
The main three parts of the funnel are 1) Audience, 2) Engagement, and 3) Conversion.
Your goal should be to generate:
Awareness
Leads to increase engagement
Conversion by cross-channel Remarketing
To achieve better results at pocket-friendly budget, you need to work from the bottom to the top of this funnel.
So, you will be budgeting for (in order):
Conversion Remarketing -based on the size of your audience and their position in the buyer's journey and relationship with your brand
Engagement -to target people who look like your current customers, have interests related to your offerings or show behaviors that relate to your product somehow
Remarketing for more engagement – to further educate them, rather than selling to them (by sharing customer stories, addressing issues, and showing how active you are online)
The major part of your budget should be devoted to engagement.
Facebook Advertising for Ecommerce Brands
Before you begin using Facebook Shop or Facebook Marketplace, you should be aware of different types of Facebook ads that you can leverage in your marketing strategy.
Types/Formats of Facebook Ads
Image Ads
It is the simplest type of Facebook ad that contains one image or more. You can easily create it from your Facebook Page by picking an existing post and adding a relevant and attractive image to it.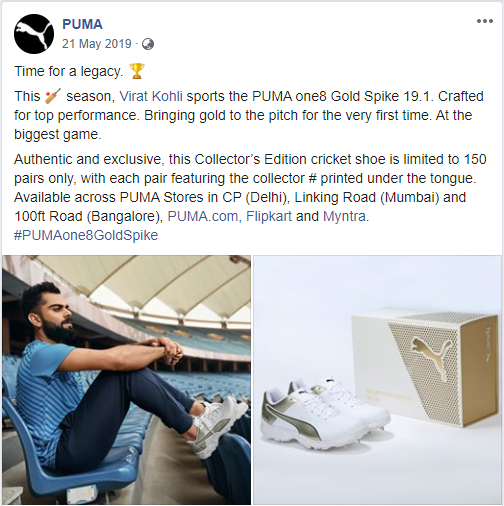 The above ad is a perfect example to show that an image ad doesn't have to be boring. You can make it look exciting and compelling using your creativity not only in text but the image as well.
Video Ads
Video ads usually appear in News Feed and Stories or can be featured as in-stream ads in longer Facebook videos. They allow you to show your products in action.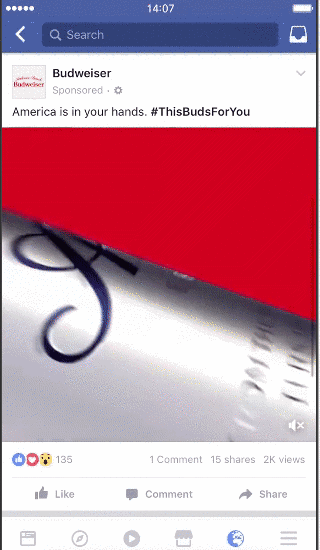 Image Source: Shopify.com

You don't always have to upload filmed videos. You can also include GIFs or other animations to attract customers' attention.
Video Poll Ads
Only available for Mobile Facebook users, video poll ads are another amazing, interactive way to connect with your audience. It is a new type of Facebook Paid Advertising; however, data shows that these ads are proving to increase more brand awareness than regular video ads.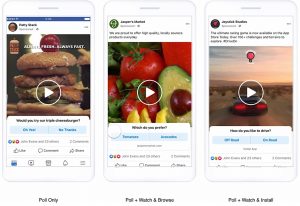 Image Source: Searchenginejournal.com

Slideshow Ads
Slideshow ads are one of the easiest ways to create short video ads. You can use a collection of still photos, text, or video clips. You can also use stock photos directly from Ads Manager if you don't have your own images.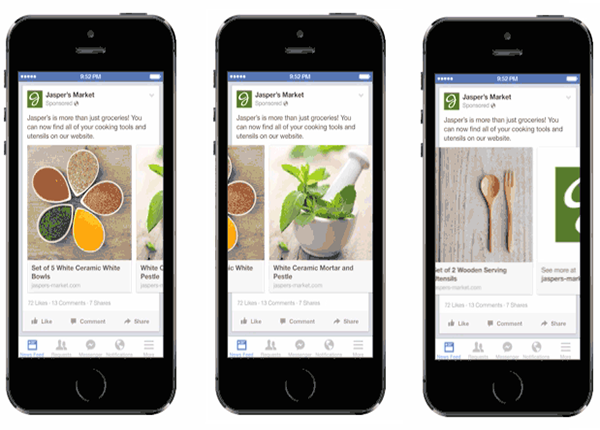 Image Source: Klientboost.com

Carousel Ads
These ads can contain up to 10 images or videos to advertise your product or service. These ads can be used for highlighting different varieties, benefits, colors, or anything you like. You can even create one large panorama image.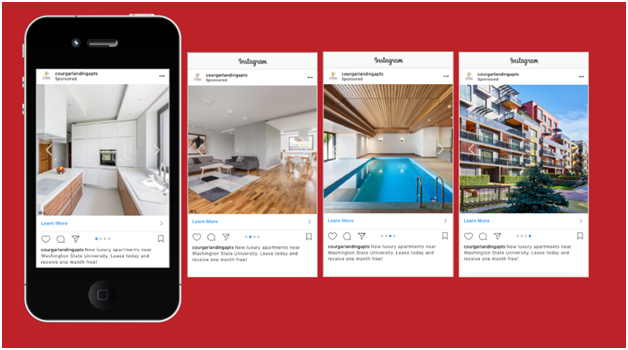 Image Source: Conversionlogix.com

Collection Ads
Offered for only mobile devices, these Facebook ads allow you to display up to five products that a consumer can click to buy.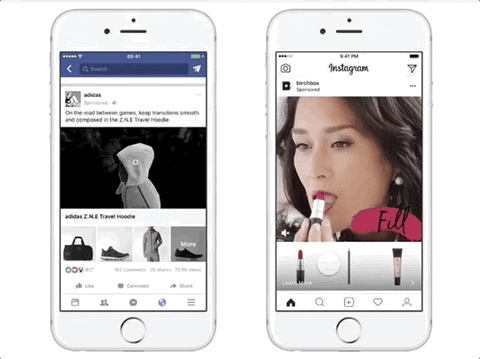 Image Source: Instapage.com

Instant Experience Ads
Formerly called Canvas, these full-screen format ads load 15 times faster than a mobile website outside of Facebook. They are mobile-optimized. Through these ads, users can see engaging videos, swipe through carousel ads, and explore images with tagged products.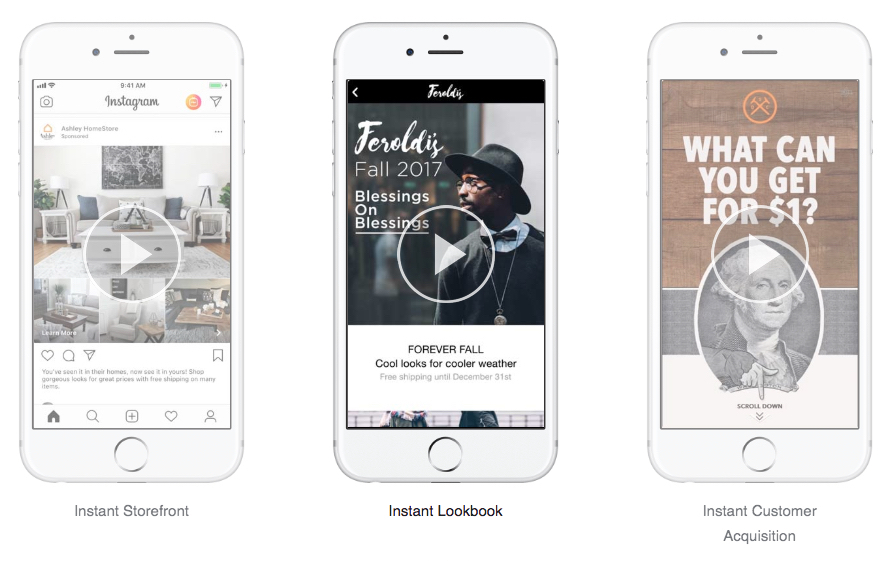 Image Source: Instapage.com

Dynamic Ads
These ads are, specially, designed for promoting targeted products to the customers who are more likely to show interest in those products. You use these ads for customers who have visited your product page or placed one or more products in their shopping cart but abandoned the purchase. These ads show those precise products in their Facebook feed.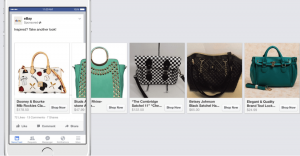 Image Source: AdEspresso.com

Lead Ads
Like Instant Experience and Video Poll ads, Lead ads are also for only mobile devices. They are exclusively designed to make it easier for customers to give you their contact information without the need for a lot of typing. They are widely used for collecting newsletter subscriptions, signing up people for product trials, or allow people to ask for more information or details from you.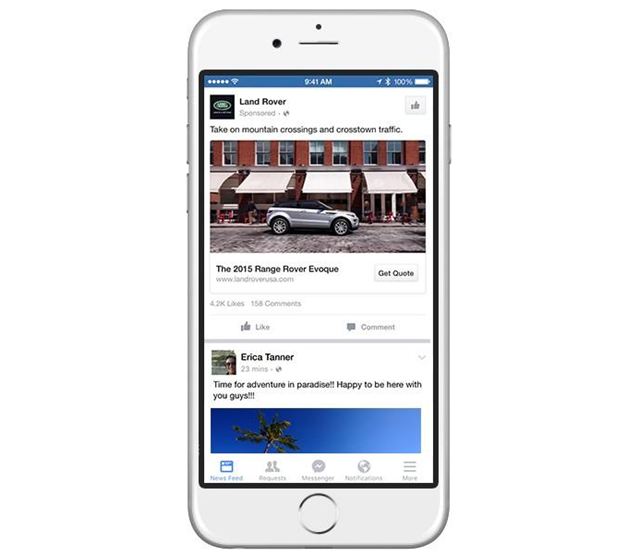 Messenger Ads
They are meant for 1.3 billion people who use Messenger every month. While creating a Messenger ad, choose Messenger as desired placement, and select Facebook feed. This ad features a CTA usually named as Send Message instead of Shop Now.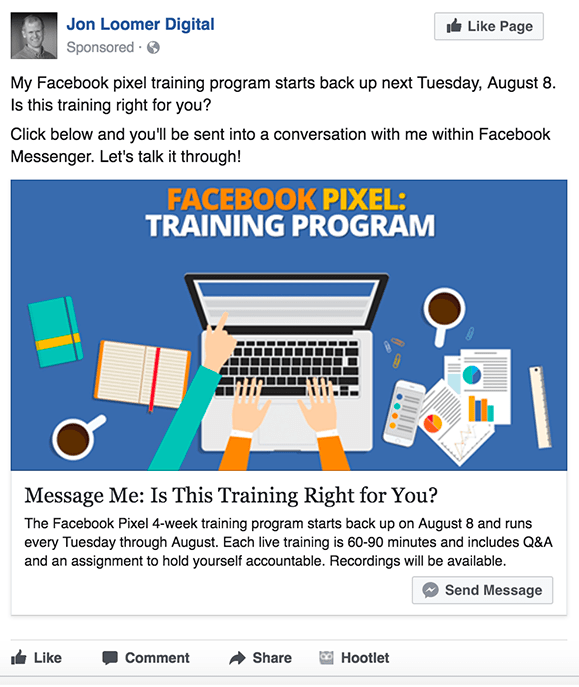 Image Source: Jonloomer.com

Alternatively, you can directly display your Messenger Ad as shown in the image given below.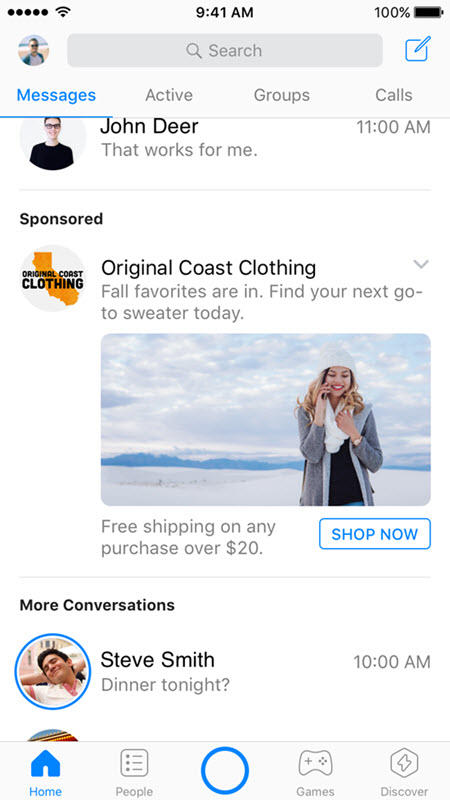 Image Source: Wordstream.com

Besides, there are also other types of Facebook ads, such as Stories Ads, Stories augmented reality ads and Playable ads.
How to advertise on Facebook by Using Ads Manager
The users who already have a Facebook business page can directly go to the Facebook Ads Manager or Business Manager. In case you don't have a business page, create it first.
Here is a step-by-step procedure that explains how to create your Facebook ad campaign.
Step 1# Select Your Objective
Facebook presents 11 marketing objectives to help you decide what you want to accomplish from your ad. These objectives are:
Brand awareness – to promote the brand among a new audience
Reach – to display your ad to as many users in your audience as possible
Traffic – to increase the traffic of a specific web page, app, or Facebook Messenger conversation
Engagement – to increase the number of post engagements, Page Likes, or encourage users to claim a special offer
Video views – to reach more people to increase video views
App installs – to get more people's attention to install your app
Lead generation – to gain new prospects into your sales funnel
Messages – to encourage people to contact you using Facebook Messenger
Conversions – to motivate people to take a specific action on your website, app, or in Facebook Messenger
Catalog sales – to connect Facebook ads to your product catalogs
Store traffic – to drive nearby customers to your stores (brick-and-mortar ones)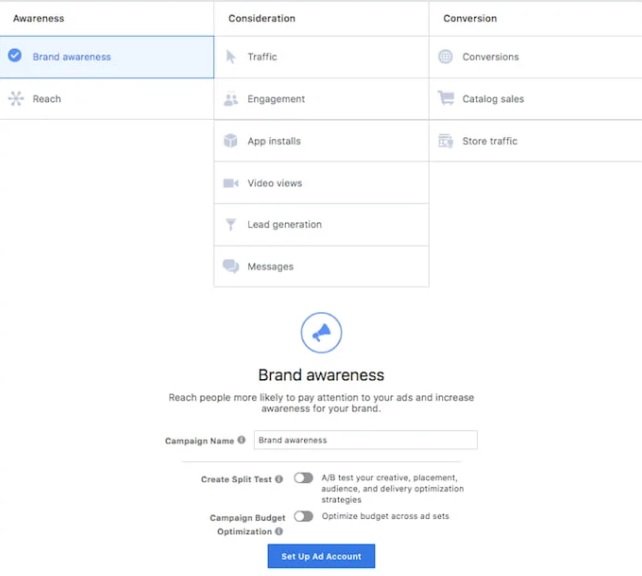 Image Source: HubSpot.com

Choose the ones that are more aligned to your goals and remember that you will pay per action for conversion-oriented objectives and pay per impression for exposure objectives.
Step 2# Determine a Relevant and Appealing Name 
Once you have a name in your mind, scroll down to name your Facebook ad campaign and choose if you want to Create Split Test and turn on Budget Optimization. It is especially helpful when you have multiple ad sets. Besides, for Engagement, you also need to choose whether to focus on Post engagement, Page likes, or Event responses.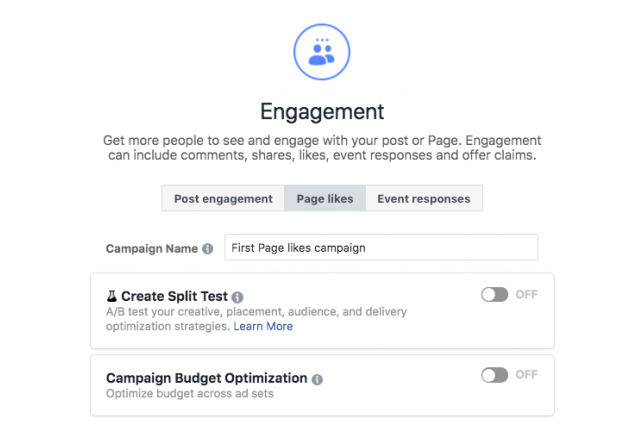 Image Source: HootSuite.com

Step 3# Create your ad account
If you already have one, you will see a button that will prompt you to move on to the next step. If you are a first-timer for Facebook advertising, click on Set Up Ad Account. Add the details and then click on Continue. Choose these options wisely; otherwise, you will have to create a separate ad account.
Step 4# Add Custom Audience
After entering the name of your Facebook ad campaign, choose the Page you want to promote. Now, scroll down to build your target audience for ads. First of all, you will see the option to create a custom audience of users who have already directly or indirectly interacted with your brand. Then, select:
Locations
Age
Gender
Languages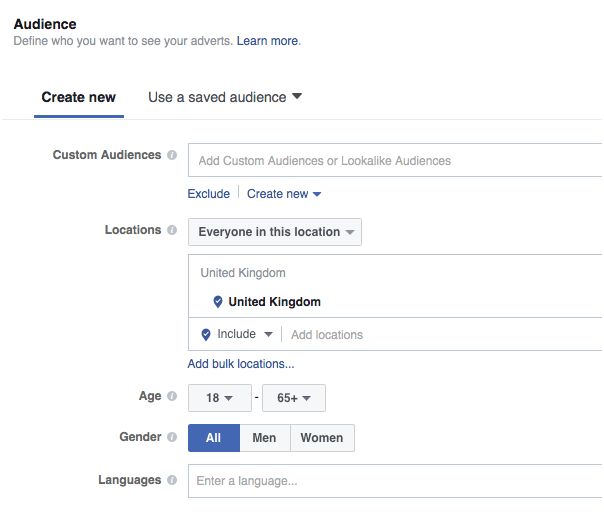 Image Source: Socialmediaexaminer.com

While selecting your options, also keep a watch on the Audience Size indicator that will give you an idea of your potential ad reach. Besides, you will also see an estimated number of Page likes. These estimated values are more precise if you have already run an ad campaign. Then, you will focus on Detailed Targeting to specifically include or exclude people depending on demographics, interests, and behaviors and Connections to target or exclude people who have an existing connection to your Facebook Page, app, or event, respectively.
Step 5# Choose Where Your Ads Will Appear
For beginners, the easiest way is to use Automatic Placements. It will automatically place your ads across different platforms, including Facebook, Instagram, and Messenger. If you have some experience with Facebook Advertising, you may wish to customize the placements. You will be choosing from the following options:
Device Type – Mobile, Desktop, or Both
Platform – Facebook, Instagram, Messenger, or Audience Network
Placements – Feeds, Stories, In-stream, Messages, In-article, etc.
Mobile Devices and Operating Systems: iOS, Android, feature phones, or all devices
Step 6# Decide Your Budget and Schedule
Once you have chosen your audience and decided where your ad will appear, it's time to set your budget. You can either set a daily or lifetime budget. Then, select the start and end dates if you want to display your ad in the future or you can choose to make the ad live right away. Plus, you can set an optional cost and bid controls that limit the amounts per action instead of the entire campaign.
Step 7# Create an ad
Now, let's come to the main and the most fun part.
Choose the type of ad (ad format) you want to run on Facebook.
Enter the text for context.
Enter the media components.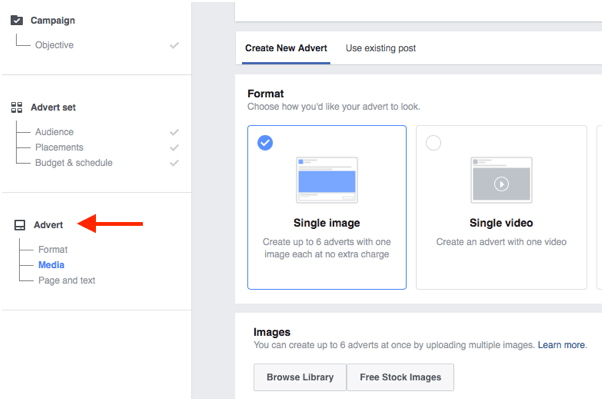 Image Source: HubSpot.com

Before finalizing, use the Preview tool to ensure that your ads look good for all chosen placements (mobile, desktop, news feed, etc.). Once you are sure, and then click the Confirm button for submission of your ad to Facebook.
Now, wait for receiving an email from Facebook that indicates whether your ad has been approved.
Top Facebook Ad Strategies
By now, you have learned about Facebook ad budget, different formats of Facebook ads, and the whole procedure of ad creation. Now, it's time to learn the ropes to reach your Facebook ad goals. So, hold on for a bit more and check out some of the top Facebook Ad Strategies to get the best out of your Facebook Advertising.
Strategy 1: Have a well-designed conversion funnel
You need to think of your target audience as different groups of people in different conversion stages. For instance, while you will want to introduce your product or tell the benefits to your new audience, you might want to directly sell to people who have already interacted with you and are most likely to buy a product from you. According to Olivia from KlientBoost, a typical funnel consists of four stages:
Attract – brand awareness and content marketing
Convert – lead ads, contest, and free trial offer
Close – sales campaigns, discount offers, and limited-time offers
Delight – referral programs, guides, and premium offers
By having a well-designed funnel, you can enhance and boost your campaign management process.
Strategy 2: Categorize your target audience to become more relevant
A lot of brands have gained success by remarketing to different audience categories. There are different types of audience categories for Facebook Ads, such as:
Lukewarm leads – people who visited your website once but have not engaged with your content or offers
Past blog readers – people who come to your blog through search engine results or social media but left after reading
Engaged blog readers – people who often visit your website for more updates and insights
Landing page visitors – prospects who have landed on specific pages and were interested in particular products or features
Shopping cart abandoners – people who almost bought but need to be nudged to complete the purchase
Repeat customers – people who keep coming back and are your potential brand advocates
Once you get familiar with different customer categories or segments, you can create more relevant ads and provide more relevant offers.
Strategy 3: Track the right conversions
Keeping a track of numbers and the right conversions will allow you to create Facebook ad campaigns accordingly and stay on the right course. Install the Conversion Tracking Pixel and create Facebook Custom Audiences for retargeting ads and track your ad campaigns.
Strategy 4: Use AdWords with Facebook Ads
While working with digital marketing channels, you can combine different campaigns and lead sources to support each other. So, use Facebook Ads to create brand awareness and then, use Remarketing List Search Ads (RLSA). This way when prospects search for a product on Google, your ads are most likely to win the bidding auction and show up first.
Strategy 5: Mingle Facebook Ads with Content Marketing as well as Instagram Ads
Most companies make the mistake of targeting cold leads in the effort of turning warm leads in paying customers. This leads to a drastic drop in the campaign's ROI. Making direct offers to cold leads is never a good idea. Instead, you should try the combination of content marketing with Facebook ads. Starting slowly and sharing valuable content is a great way to target your Facebook audience.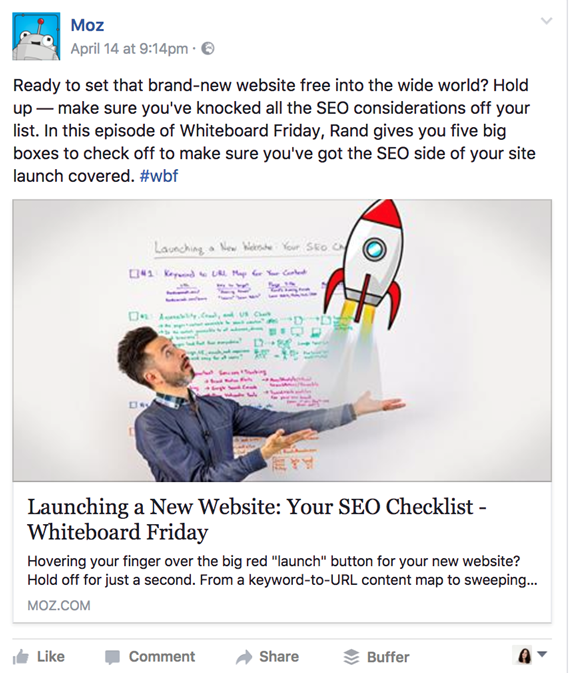 Besides, you can also do cross-marketing and benefit from Instagram ads
Strategy 6: Modify Facebook Ads for Desktop and Mobile Accordingly
Before creating a mobile Facebook Ad, revisit your goals and ask yourself whether these goals can be achieved on mobile or desktop and if this ad is mobile-optimized. Don't try to drive mobile traffic to a web page that is hard to read for mobile users. When you set up a Facebook ad campaign to target both desktop and mobile users, consider slight modifications.
While desktop news feed ads benefit more from longer link descriptions with eye-catching headlines, mobile ads benefit from shorter link descriptions with more engaging texts. It's because desktop news feed highlights the headlines and mobile feeds display the headline with a smaller font.
Strategy 7: Test the Carousel Ads (if you haven't yet)
As per the report of Kinetic Social, carousel ads have "an incredible 10x increase in link click CTR when compared to non-carousel ad units".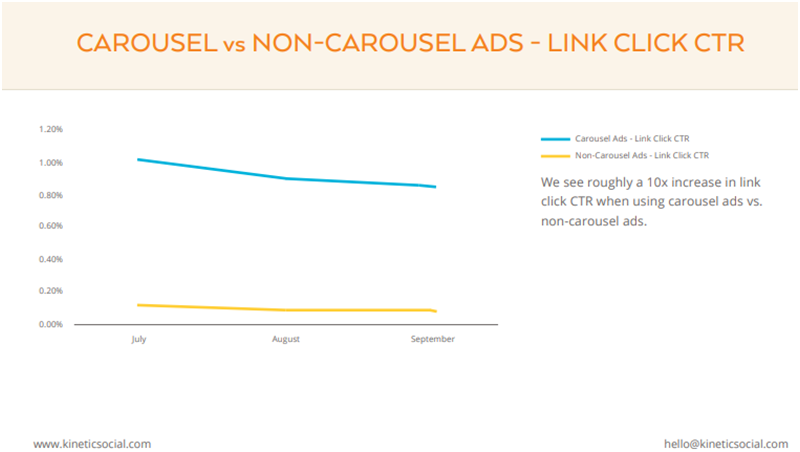 Image Source: KineticSocial.com

However, you need to create carousel ads that tell consistent, interesting stories throughout your slides. The first image of your carousel ad can make or break the impression. So, make it so good that people don't want to ignore it.
Strategy 8: Don't underestimate the power of Video Ads and Dynamic Ads
Video ads in the news feed can bring dramatic results. Shoppers who watch videos are 1.81 times more inclined to make a purchase than non-video viewers. But, you have to make sure that your video is of high quality and relevant to your customers. Besides, dynamic product ads can greatly help in retargeting your website visitors as they are considered to be one of the highest ROI strategies for e-commerce websites.
Strategy 9: Discover new audiences with Lookalike Audiences
Most often companies begin Facebook advertising by targeting a large cold audience and, therefore, no one gets the benefit. Luckily, you can target Facebook Lookalike Audiences that also form a part of cold leads. They will more likely be interested in your offerings. It is much better to shoot an arrow near the target than randomly in the dark. You can easily set up a Lookalike Audience based on the Custom Audience.
Strategy 10: Remarket to Familiar Audience
Once people visit your website's specific landing pages, send them an invitation to return. Ramping up your remarketing strategies can lead to more conversions at the same budget. So, if you haven't started using Facebook Custom Audiences yet, it's the right time to use it.
Wrapping up My Thoughts
No matter what kind of Facebook ad format or what strategy you use; remember one thing – best advertising practices are only best 'practices', not guarantees. Try to work on different strategies at a small scale, assess them, and figure out which Facebook ad formats and strategies work best for your business before making high bets. The key to successful Facebook ad campaigns is to come up with creative ideas before anyone else.
The following two tabs change content below.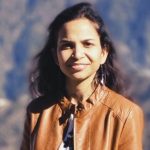 Vijaya Tyagi
Vijaya Raj Laxmi Tyagi has been an avid content writer for over three years with a keen interest in writing SEO articles and blogs. She also finds great enthusiasm in writing about a vast variety of topics, including gardening, interior designing, health & wellness, and tourism. Her educational background in Computer Science and Engineering has given her an edge to write about technologies that tend to mark a great impression on daily lifestyle and behaviour, while her intrigue towards Mother Nature drives her to discuss green topics.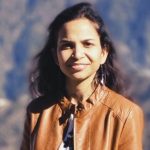 Latest posts by Vijaya Tyagi (see all)