Featured Snippets – the quickest and subtle way of acquiring a top position in a search engine without earning lots of backlinks or frequently updating your content! A featured snippet is a brief extract of information that is pulled from a web page to provide the relevant answer to a search query. Most often the content is pulled from top-ranking pages and it is displayed at the top.
While this sounds amazing from users' point of view as they get the answer without clicking any search result links, many website owners raise eyebrows because if users get answers in the SERP directly, websites will suffer from low traffic. To be honest, as a website or blog owner, you may or may not suffer from fewer clicks.
Let's see a featured snippet in which you get the answer right away and another in which the user will most likely click on the featured snippet link.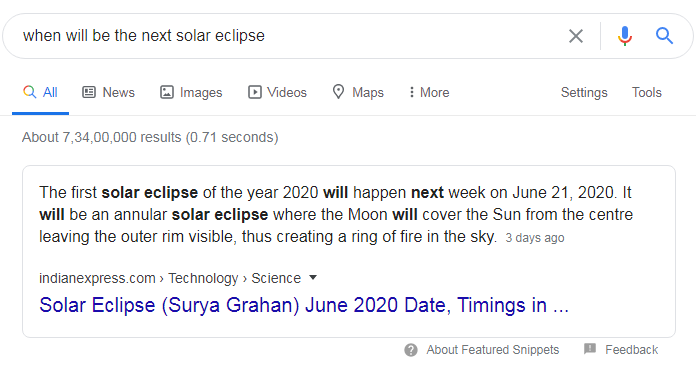 In the first example, you can see if a user just wants to know when the next solar eclipse will occur; the user will usually not click on the link as the answer is right in the front at the top. However, there is also a probability that if the user is a bit more interested in knowing more about the next solar eclipse, and then the user might click on the link as well.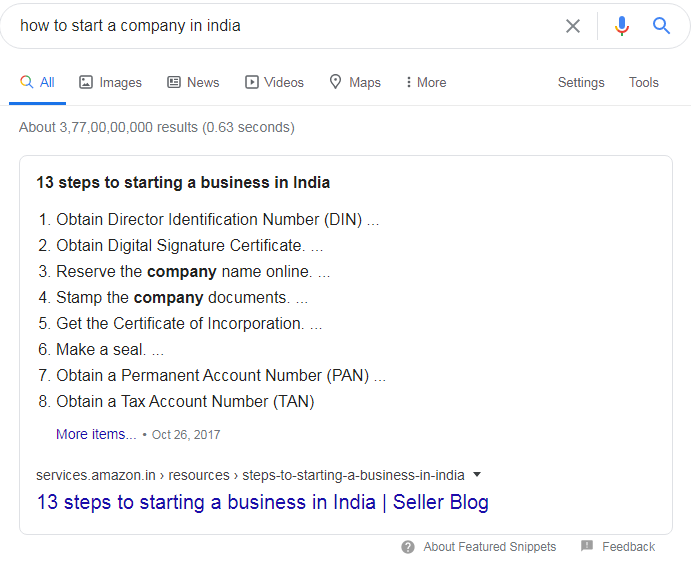 Now, see the second example in which the user wants to know how to start a company in India. Since the featured snippet is not revealing all the steps required, the chances that the user will click on the link get higher. So, featured snippets answer the absolute basics, and to know more, the user is required to click.
Consequently, when your content is displayed as a featured snippet, you don't have to be that much concerned. If you optimize your content for Google featured snippets, you might hugely benefit as well.
To help you fully understand the concept of Featured Snippets, this guide discusses:
Types of Featured Snippets
Impact of Featured Snippets on Search and SEO
Methods to find and optimize Featured Snippets that you already own
How to rank your Featured Snippets
What are the different types of featured snippets?
Google shows various types of featured snippets based on the search queries. These types are:
Paragraph Featured Snippets
Numbered List Featured Snippets
Bullet List Featured Snippets
Table Featured Snippets
Video Featured Snippets
Paragraph Featured Snippets
The featured snippet content is displayed in paragraph format. This is the most common format displayed in the majority of featured snippets.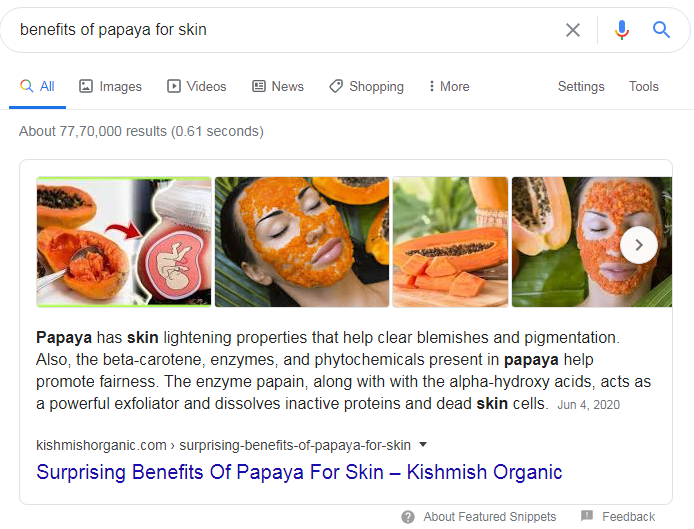 Numbered List Featured Snippets
In this featured snippet, the answer is given in numbered points.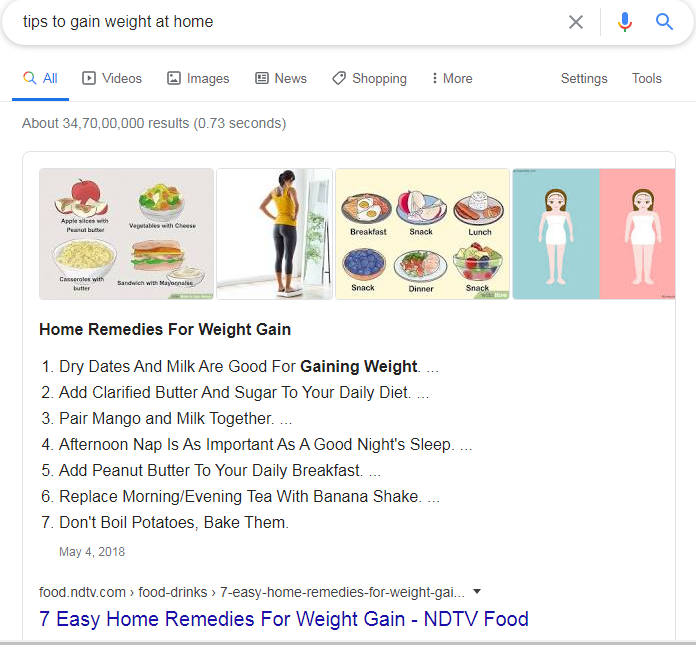 Bullet List Featured Snippets
As the name implies, the featured snippet content is shown in a bulleted format.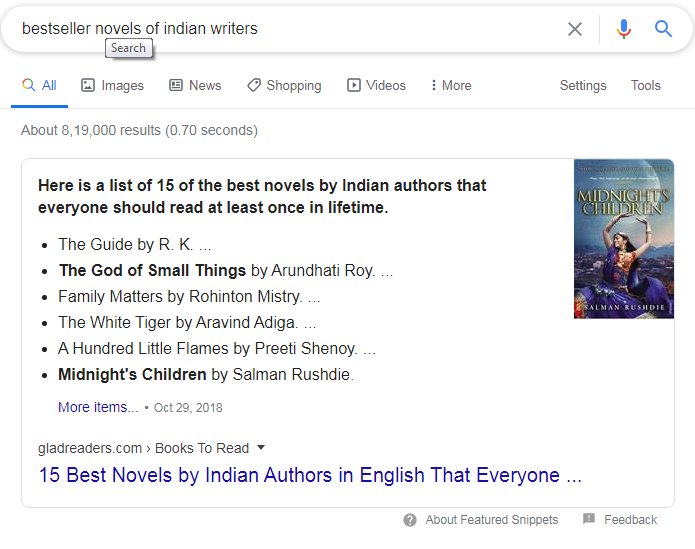 Table Featured Snippets
The featured snippet content is displayed in the table format and it is the least common format that appears in featured snippets.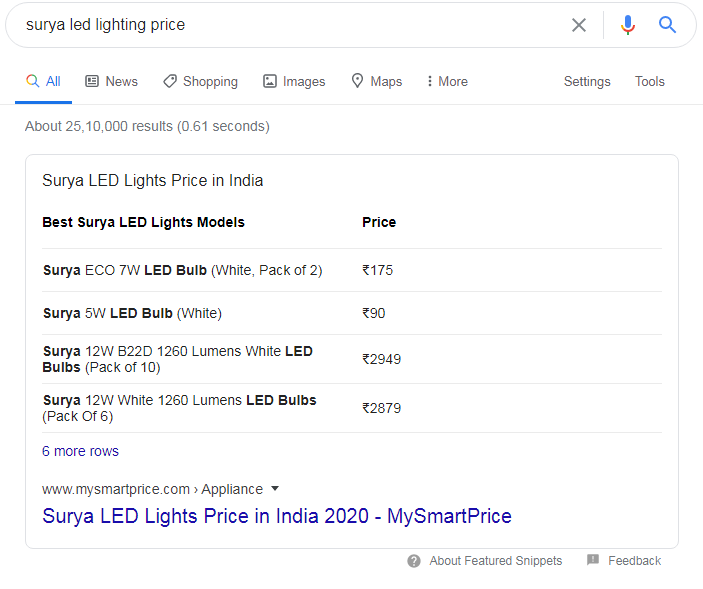 Video Featured Snippets
Most often, this format is displayed for "how-to" queries in which users search for how to make a recipe, how to fix an appliance, and so on.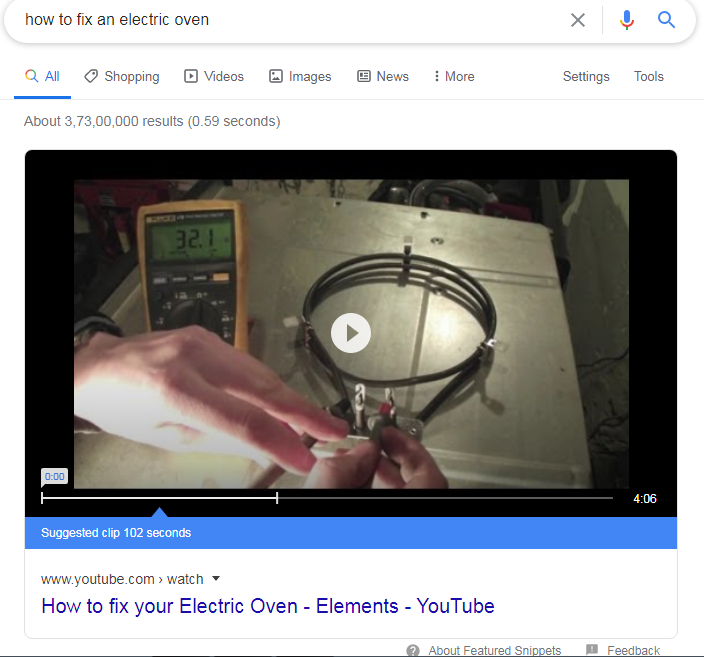 Now, when you know what different types of featured snippets are out there, it's time to know what result is not a featured snippet but looks like a featured snippet. It's crucial to be able to distinguish between them.
A. Knowledge Panel
It is an information box that appears in search results (typically on the right-hand side) when you search for entities that are in Knowledge Graph. It is like a quick snapshot of information for the search query based on Google's understanding of available content.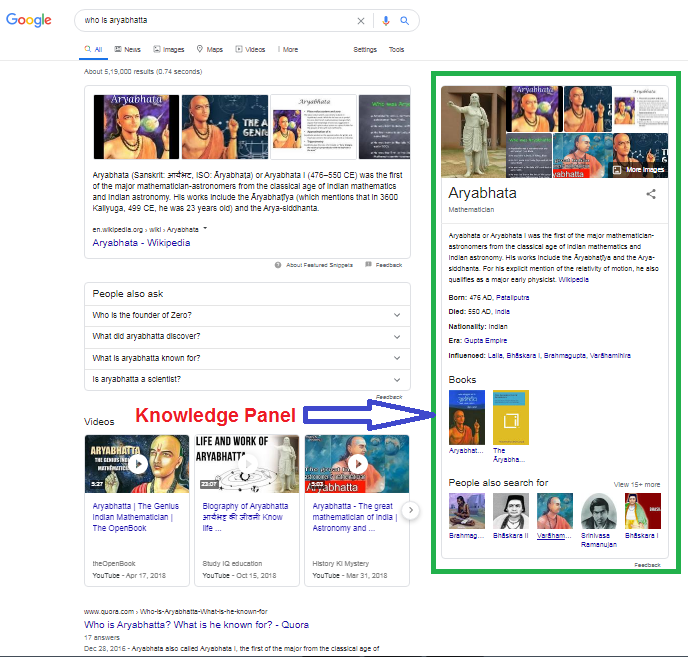 B. Knowledge Card
A knowledge card is the one that pulls the content when users generally search for information like addresses, contact numbers, websites, and other basic things.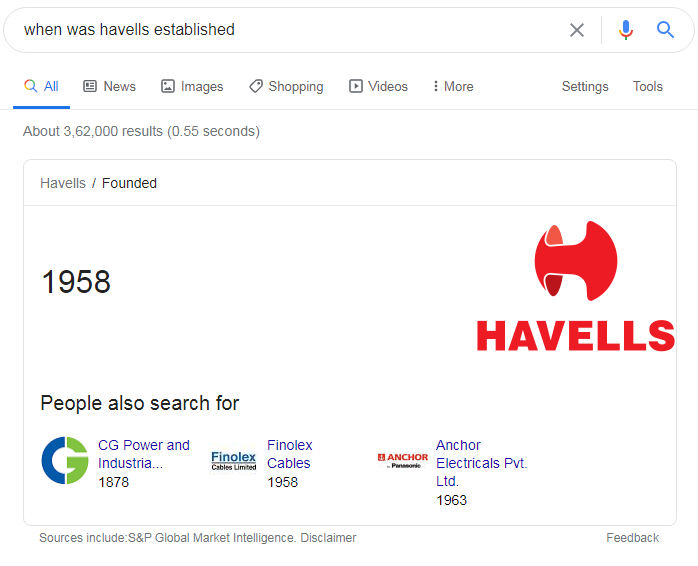 C. Entity Carousel
Similar to what you see things such as thriller movies 2020, entity carousels are mainly meant for "best" or "top" searches, for instance, best word processing software, or top motivational speakers.

The biggest difference between these three SERP features and the featured snippets is that knowledge panel, knowledge card, and entity carousel don't pull results from just one of the higher ranking search results and they may contain a link to the source of information but that link is not in the form of a clickable title as opposed to featured snippets.
Impact of Featured Snippets on Search and SEO
Introduced by Google in 2014, one can unarguably say that Featured Snippets are one of the most significant changes in the SERP over the past decade. Search engines like Google and Bing keep evolving featured snippets that affect both users and SEOs.
1. Faster Way to Reach Top Position
All of us know that organically ranking for the first position with a targeted keyword is a more difficult battle than ranking on the first SERP. If that keyword triggers a featured snippet and your page is ranking lower on the first SERP, featured snippets will make it easier to attain the top position.
2. Possibility of Fewer Clicks in Some Cases
As mentioned above, many SEOs and website owners think that featured snippets lead to a reduction in the number of clicks. If people get answers in the SERP itself, why would anyone click on the link? We have already discussed it in the beginning that this is not the case for all results and queries.
The featured snippets, that provide the maximum information in the target content, result in fewer clicks because most people find the answer right there. However, a lot of featured snippets provide only basic information. If users are eager to learn more, they often result in a higher number of clicks.
Thus, targeting keywords with a low CPS (Clicks per Search) is not usually a good idea for the content you want higher visibility or ranking.
3. Featured Snippets can be a part of your branding strategy.
No one can deny the fact that featured snippets are the first thing that users see in the search results if queries trigger SERPs with featured snippets. More importantly, they are even more prominent on mobile devices where they are usually the only thing people first see.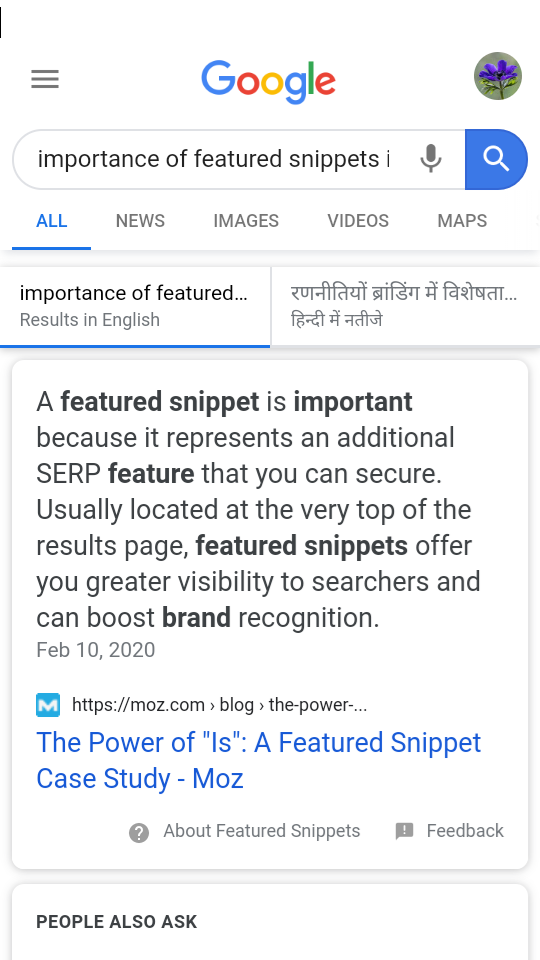 Therefore, when content from your page is pulled to display in the featured snippet, it certainly makes your brand more recognizable and familiar. The more your brand or website is visible in SERPs, the stronger your brand image gets.
4. Featured Snippet De-duplication Update – Not Completely a Traffic Killer
This year, Google rolled out a new update that de-clutters the search results. Before this de-duplication update, the page that had its own featured snippet was also listed in the top search results of the first SERP. However, now (after update) there is no duplication, meaning if your page owns a featured snippet, it won't appear below in the first SERP at any position. Besides, the page may or may not appear on the second SERP.
Though this update has resulted in significant traffic reduction to some pages in featured snippets, it is not entirely a traffic killer. According to various studies conducted, for example, Kevin Indig's study and Ahrefs study, there is no major impact on the traffic, and the most significant traffic drops noticed only for queries where the pages were previously ranked in the first position and owned the snippet as well.
See what Kevin Indig post revealed:

Image source: Kevin Indig
E. Rushing to prevent your content from appearing in a featured snippet?? That Might Hurt!!
Cyrus Shepherd and Rida Abidi shared in a post on Moz that they conducted an experiment of opting out of featured snippets and noticed a 12% traffic loss for all affected pages after losing featured snippets.
So, if you are also thinking about it, be careful.
Plus, remember that some of the ways that allow you to opt-out of featured snippets also block your content from appearing in organic search result snippets. In that case, Google would be using only your hard-coded title tag and meta description.
The safer way to opt-out of featured snippets is to include max-snippet robots meta tag. This tag allows you to set the maximum number of characters that Google shows in their text snippets. However, this method does not provide a guarantee that your content won't appear in featured snippets. Only the more restrictive methods such as data-nosnippet can help you do that.
How to know where your page ranks if it doesn't own a featured snippet
It always helps to see where your page ranks without a featured snippet before opting out of featured snippets.
Open your page Incognito mode (not essential but preferable).
Append "&num=9" to the URL of your page.
Hit enter.
This way you can see where your page is ranking if it does not own the featured snippet.
If your page gets a lower position on the first SERP without Featured Snippet, opting out of it will hurt your traffic. So, do this only on your own risk when you are well-informed and confident.
Methods to Find and Optimize Featured Snippets That You Already Own
To dig into the featured snippets, you need third-party tools such as Site Explorer. So, what should you do with these tools?
Paste in your site.
Fetch the Organic keywords report to see which keywords your site ranks for.
Then, filter for only those results where Google shows your page in featured snippets.
Make a list of the featured snippets that are important to you.
Then, filter results by search volume or relevant KPIs based on your country and industry.
Check out featured snippets that are non-ideal and not providing the best relevant content based on the queries.
Now when you identify the non-ideal featured snippets, you need to work on them (e.g. placing HTML heading tags more appropriately) to make them clearer and easier for Google to understand.
However, it is wiser to not do anything you can do to the featured snippets you own unless it pulls misleading or wrong information. It's much better to own a featured snippet with an imperfect format than losing it to a competitor by making changes.
How to Rank Your Featured Snippets
By now, you might have realized that owning more featured snippets means more brand awareness and recognition and more organic traffic to your site.
If your page is already ranking in the top 10 search results for a particular keyword and don't own a featured snippet, you can do it by making a few changes to your page. How?
Go to the third-party tool you prefer to use for competitive analysis for SEO.
Filter keywords that trigger featured snippets where your website is ranking other than position one.
Prioritize keywords with high search volumes or use filters that are more relevant to you.
Now carefully check which of them provide more business value. There is a possibility that some keywords might be more popular and rank higher. But only those keywords that bring you the customers are more valuable to your business.
One way to trigger a featured snippet is to introduce a list (or paste the navigation list) in the introduction. Or, in other words, add a UX element in your page content to make it more snippet-worthy.
If it doesn't help you, it might mean that you need to create more powerful content and build links.
In future, create your content by keeping featured snippets in mind. Find potential opportunities by using third-party tools. Enter the seed keyword and see the "Also rank for" report and use the featured snippet filter. Once you hit enter, you will see a list of keywords that top-ranking pages also rank for apart from that seed keyword.
You don't have to use all of these keywords. Just try to use only those keywords that make more sense to your content and have decent monthly search volumes.
To Conclude
Even after the de-duplication update, owning a featured snippet is a good thing. If you are struggling to rank higher or none of your content is being used in featured snippets, this might be a sign that you need to work harder on the quality of your content or revise your strategy for creating content. Do you know what kind of content appeals to Google? High-quality content –that is informative, valuable for users, easy to understand, and well-formatted. Earning (external) links is another way to build credibility. You can own a featured snippet only if your content is really compelling and good. Remember it might take a lot of time, so don't get disappointed and just keep doing because efforts in the right direction always pay off in the SEO world.
The following two tabs change content below.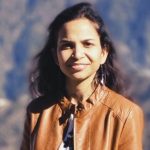 Vijaya Tyagi
Vijaya Raj Laxmi Tyagi has been an avid content writer for over three years with a keen interest in writing SEO articles and blogs. She also finds great enthusiasm in writing about a vast variety of topics, including gardening, interior designing, health & wellness, and tourism. Her educational background in Computer Science and Engineering has given her an edge to write about technologies that tend to mark a great impression on daily lifestyle and behaviour, while her intrigue towards Mother Nature drives her to discuss green topics.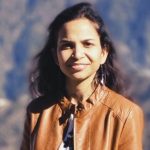 Latest posts by Vijaya Tyagi (see all)