There is no such year when Google doesn't surprise users with its updates. This year also Google has come up with an important amendment made to the Google partners in order to pass a certification program for agencies to meet certain criteria which was released on 13th February 2020 and going to be executed around June 2020. The official date is not yet declared, but many agencies have already started looking forward to the new badge, status, and other changes with the aim of supporting the business requirements of their partners and clients. Traditionally, it was launched in 2013 to help agencies in improving their brand image and giving customers full satisfaction in their services. After this, Google has taken almost 7 years to come up with the biggest changes made to its partner programs so the ones who are a Google partner must fulfil the new requirements set under a new set of updates.
According to the latest big update, if Google partner companies successfully meet the new set of requirements in June 2020 then those agencies will be provided with a new partner badge, new company status, product capabilities categories, and many interesting perks of being the active partners of Google. This will help companies in withstanding the challenges and form into a unique brand image. Now companies can maintain their Google partner status by meeting a new set of requirements of its certification programs such as mobile advertising, shopping, video, display, search, and Adwords Fundamentals also they have to attend the training sessions to be updated with the latest PPC practices.
While talking of badges, there are two different types of badge formats one is dynamic badge that shows the company name and can be used on online properties such as website and the additional domains that are listed on partner's company profile while other is static badge that shows the specializations of a company and is used in all the printed marketing materials.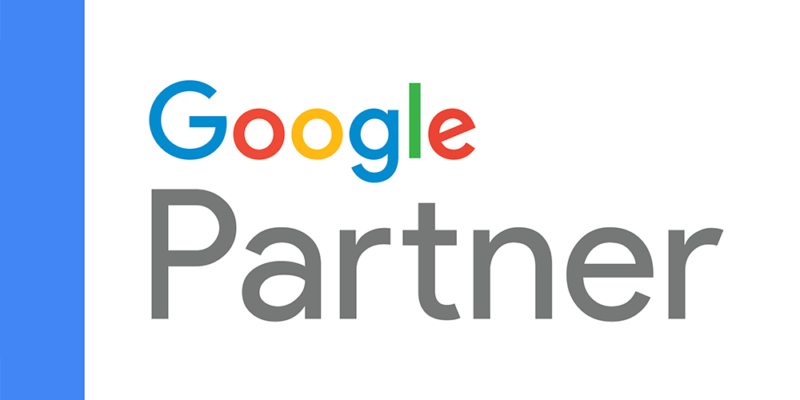 What are the changes made under June 2020 Google update?
The main motto of creating the changes in Google partner programs is to evaluate the amount of time spent on Google ads on a monthly basis and help companies in maintaining good Google partner status. According to the new updates made to the partner programs, there are three main things that are targeted by Google. The following three factors are mentioned below –
Certifications – The first target of the new Google update is certifications of the agencies evaluating the number of the employees hold by them. According to the existing policies of Google if you wish to become a Google partner then one member of staff holding the certification is required. However, with the new update, 50% of the staff must have updated Google ads certifications in search, display, video, and shopping. In short, agencies will require the certifications of most of their staff. According to Google, the ones who have an admin or standard level access to the company's ads manager account are the potential users of becoming its partners. By doing so, Google wants to make users realize the changes they are making while working with Google ads on a daily basis. So even if you are using PPC ads for more than 10 years you still have to meet the requirements of the new Google update before reaching the deadline.
Ad spend – Earlier Google used to spend a minimum amount of $10,000 on Google ads within a framework of 90 days across their managed accounts but according to the new update, Google will have to invest $20,000 on Google ads within a period of 90 days which is going to bring a huge change in the strength of its existing partners. Some agencies might have to face the doubling of their ad spend in 4 months while some might have not so one should either try to sign as many clients or increase their spending of monthly ads on their existing clients.
Company performance – Last but not the least is the company's performance, earlier it used to be evaluated on the basis of the company's overall revenue collection, number of advertisers working for them, retention of company's clients, and its revenue growth. Google partners used to check the client accounts linked to the managed account during a period of 18 months. They used to require a record of spend activity of a company in their manager account. But with the new update, Google will now be analyzing the company's performance on the basis of agencies following Google's optimization score recommendations which is going to be very complicated. Due to this, PPC managers and executives of the agencies will have to maintain their good performance by actively participating in Google suggestions. However, current Google partners are not required to follow all the recommendations or achieve a 100% optimization score to meet the new set of requirements as the limit of 70% is set for becoming a new Google partner. The optimization score will help the audience to target high performance for better growth and sustainability.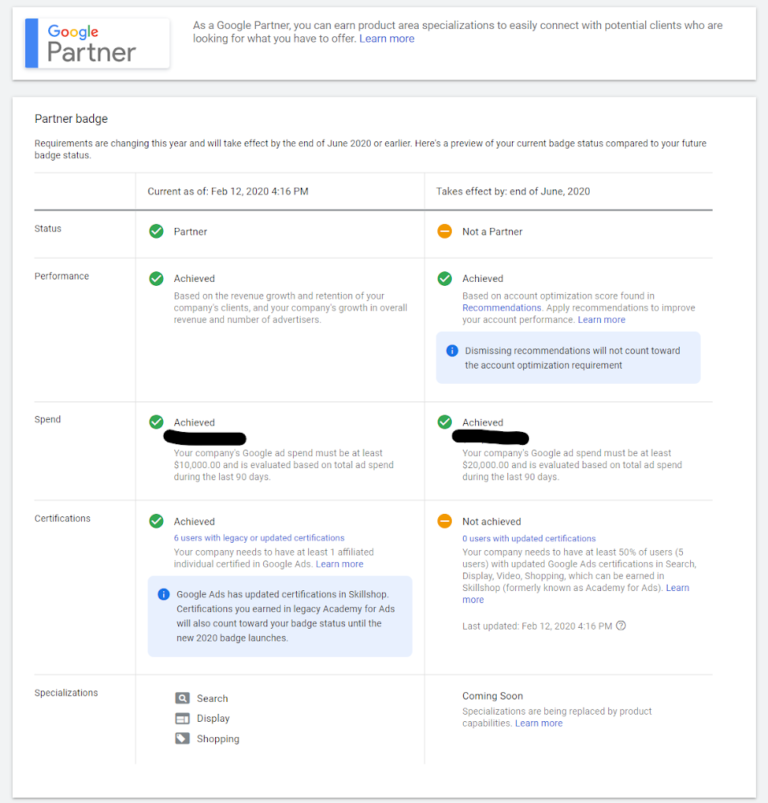 While drawing the conclusion it is pretty clear that if you fail to meet the requirements of the new update then you can't remain a Google partner. A similar thing happened with one of the recent partners of Google who posted a screenshot of an e-mail received by Google which clearly states that the following person/company failed to meet the requirements of the latest update. Also, the companies that are able to fulfil the new set of requirements of Google partner programs will have employees managing their client's accounts with Google Adwords certifications. The certifications will help Google in analyzing a company's potential for meeting its latest standards. Hopefully, all the current Google partners will receive an e-mail from Google stating whether they have passed the exam or not.
The following two tabs change content below.
Monika Bhandari
Monika Bhandari is a proficient content writer who is specialized in giving relevant content for the leading websites. Her specialities include writing blogs, webpages, and guest blogs about health, fashion, lifestyle, and technology. Apart from her professional life, she loves to explore food, places, and books. Her passion for reading and writing evolved through her educational background in English Literature.
Latest posts by Monika Bhandari (see all)