If you are looking at getting more bang out of your buck and yet haven't considered advertising on Bing, it is time to take a closer look at your Media Plans. Even though Google owns a lion's share of the search market, Bing's growing numbers, as well as its demographic distribution, make it a much better bet for advertising especially in verticals like Business and Finance.
The latest comScore data released in June 2014, which while placing Google at the top of the search market with an undisputed lead of 67.6%, also shows Yahoo and Microsoft combined accounting for a good 29% of the market, enough to be considered seriously by advertisers. Ask Network with 2.4% of the search market and AOL Inc. with 1.3% of the market remains the industry laggards.
When it comes to spending the advertising moolah here are some important metrics to mull over. Whether you are looking at Ad Impressions, Cost per Click or rate of conversion, Bing offers some very compelling reasons to advertise. Little surprise then that advertisers are increasingly moving to Bing.
Ad Impressions
A study titled"Yahoo! Bing PPC Performance Metrics", released by AdGooroo goes on to show Bing Ads overtaking Google Adwords in categories such as Financial Services with an edge of over a million ad impressions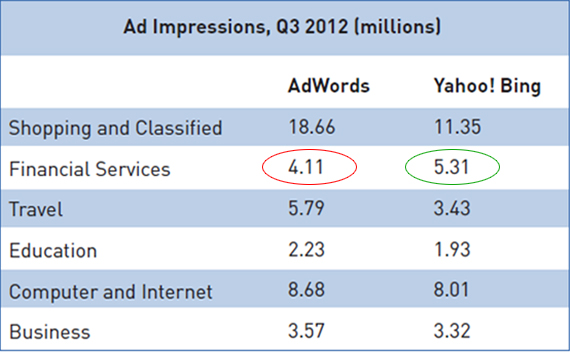 While Ad words continue to enjoy a lead in some other categories, the gap is certainly closing.
Cost per Click
When it comes to measuring the effectiveness of online advertising, ROI metrics are known to include parameters like lower cost per click or CPC, higher-order value and a higher rate of conversion. It is in the cost per clicks that Bing Ads is significantly more effective with a gap of 30-60% with Google AdWords, as the data below from AdGooroo so clearly highlights.
This is mainly due to lesser competition as currently compared to Google AdWords, fewer businesses use Bing Ads leading to ad auctions at lower prices.
Higher Ad Rank
With over 1 million advertisers on Google AdWords, the competition for the No.1 ad spot on Google is tough, to say the least. On the other hand, with fewer advertisers bidding for keywords on Bing the chances of lower price points on targeted keywords as well as higher ad ranks are much enhanced.
As an advertiser, you stand to gain even more if your competitors are not on Bing at present, as it gives you an opportunity to occupy the top position without paying a premium for it. But if you are not advertising on Bing Ads and your competitors are, you might already be losing out on precious business.
Exclusive Audience
A startling data, which has come to light with the release of the latest comScore data, is the number of unique searchers on Yahoo and Bing, who are not using Google at all to conduct their searches. In fact, in a few verticals like Automotive and Financial services, Yahoo and Bing account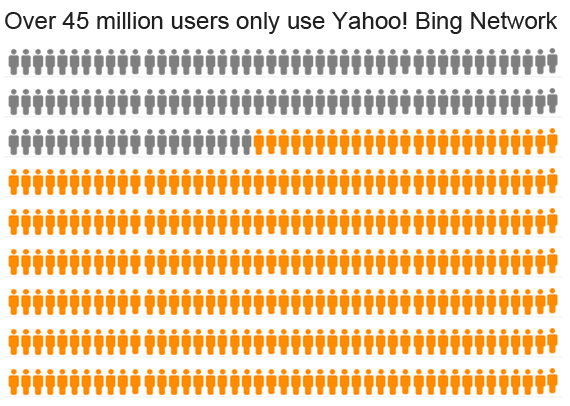 for the lion's share of searches, with a majority of them being unique searchers.
This is a huge fact and explodes the oft-repeated myth that search equals Google. Infect ComScore data shows that Bing Ads had a staggering 11 million unique searchers in the US out of a total of 14 million automotive searchers, which means that nearly 80% of all automotive searchers were present only on Yahoo and Bing, a good enough reason for the automotive industry to assign more of their online advertising budget to Bing Ads rather than Google Ads.
Yahoo Bing is not only popular among automotive searchers but also scores high in sectors like financial services and Telecom with the travel industry not too far behind. With 21 million unique searchers out of a total population of 29 million, advertisers from the financial services industry are sure to benefit a great deal more by advertising on Bing.
User Experience
Yahoo Bing's growing popularity can also be attributed to the fact that it has done away with inherent flaws and now includes almost all the functionalities that are available on Google AdWords, in some cases with enhanced user experience. For instance, Bing allows display of top 4 ad positions unlike Google, which only allows the display of top 3 ad positions. This means that advertisers have a greater chance of appearing in search ads with Yahoo at a significantly lower cost. Another feature that finds favor with advertisers is the ability to include up to 40 characters in your headline unlike Google, which allows for only 25 characters.
All this is not to suggest that advertisers can choose to advertise on Bing by doing away with Google Ads altogether. Google is the dominating force in the search market and will continue to be so in the foreseeable future. However, if your goal is to a) expand your reach b) ensure better targeting and c) boost conversions, you can choose to ignore Bing at your own peril. Lower CPCs and CPMs as well as less competition for ad position, offer a great opportunity to advertisers to optimize their search results.
The following two tabs change content below.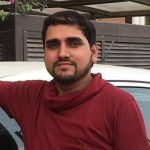 Amit Mishra
Amit Mishra, the co-founder of Media Search Group, loves to pen down about marketing and designing. Be it search engine optimization(SEO) tips and strategies, Social Media Optimization, Increasing Engagement, and Traffic Score, Web Design and Development, Mobile Applications, Conversion/Sales, he covers it all. Been in the business for a long time, Amit Mishra knows some of the best strategies on how to expand and grow a Business Online.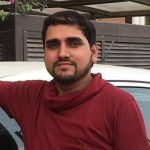 Latest posts by Amit Mishra (see all)