The COVID-19 outbreak has stirred the whole world. Apart from China, various big and powerful countries including the USA, the UK, Germany and especially Italy are facing the smash of coronavirus. The impact of this pandemic is so aggressive that many businesses are fighting hard to survive in the global slowdown, while a lot of them are on the verge of shutdown.
But the questions you must ask yourself during this catastrophic situation are:
Is accepting the bad outcome or closing my business the only solution during coronavirus outbreak?
Should I stop doing SEO for my blog or website during COVID-19 pandemic?
A huge number of businesses are doing the same as they are panicked with the situation; however, we won't recommend you to take the same route. To your surprise, you still can save your business from drowning by responding the right way.
If you are lucky enough to have some cash, there are ways to push hard through the slow business market.
Here are the reasons and utterly useful and insightful tips on how to keep business alive during economic slowdown instigated by the coronavirus epidemic.
1- SEO and SEM (now with Different Approach) Help in Generating Cash.
All of us know that cash and cash flow are what keeps business operational in hard times. For those who are stressed due to coronavirus need to calm down and focus on how search engine optimization and search engine marketing can help.
An opt-in email list is the only marketing technique that produces a better ROI than search engine marketing. However, they are not readily available to you. You must generate demand to create profit-oriented opt-in email lists.
Since paid, as well as organic SEO, bring you, consumers, when they need something, you can use SEO and SEM to produce sales and leads from what they need. When consumers search for your product or service, they are getting more familiar to your brand. So, today's efforts will benefit you in the future as well.
People need products and services even when they are being self-quarantined, isolated, or working from home. You may have yet not realized but it's the fact that people staying at their home will search more and more, though this time their search phrases might be different from what they did use before.
At present, the travel, employment, and various other segments are the major victims of the COVID-19 pandemic.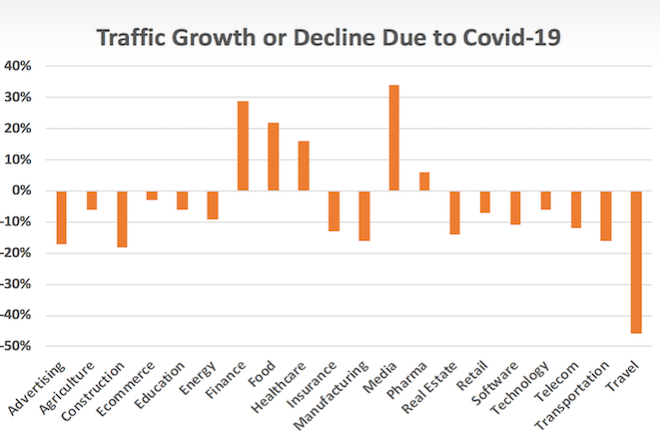 So, don't act rashly and widen your analysis lens. You will surely find alternate ways to cope with this paradigm shift that might be the 'new normal' for us in the upcoming years.
For instance, for travel agencies working in COVID affected countries, people might search for information on travel restrictions rather than looking for a tour package. Being a responsible entity, it's your duty to inform your customers and keep up to date. Rather than luring them with lower-priced tour packages, it's better to provide genuine local information on impact and recovery so that they can build 'TRUST' in your brand – an important component of Google's E-A-T concept.
If you are a recruitment or job consultation agency, you may need to shift your strategy to pivot strategy as a lot of companies are shifting their in-office work culture strategy to 'work from home' and also many people are looking for jobs that allow them to work from home.
2- You can attract consumers with a more immediate buying intent with SEO 
This is something that you already know. Businesses that now have a very limited budget should make efforts to attract customers who want to make an immediate purchase for emergencies. The best thing about SEO is that its results can be measured.
Take a look at your sales and leads in Google Analytics or other analytics tools you use. Then, figure where you need to pivot your budget and efforts.
Buyer behaviour is the metric that you need to focus more these days as it is and will be changing for the next few months or years. Competent SEO and digital marketing companies know when they need to react to the current data and change their strategies accordingly. They know how to judiciously utilize your budget to rank those keywords and keyword phrases that appeal to consumers' current behaviour and mood.
Let's take another example.
As more and more employees are working from home these days, you can provide them with services or products that help them do their work more efficiently. It can be as simple as suggesting exercises to efficiently work without going through unnecessary pains or providing hygiene products such as hand wash, soap, sanitizers, gloves, tissue napkins, handkerchiefs, masks, comfortable sitting chairs and tables with right height for working with a laptop, and more.
With SEO, you can quickly know whether your investment is working or not.
3- Mobile Search is the first and last resort for people During Shortage.
We are already seeing shortages of products, especially toilet papers and sanitizers. Nowadays, people are bound to stay in their home or asked to avoid going out as much as possible. Thus, this is the peak time when people will search for whatever they need. In case they don't get what they need, they will shift to alternatives.
So, it's the golden opportunity for you. Increase your visibility in the search results for people who are searching for scarce goods and services.
Use a proactive approach and forward-thinking to be ready for the coming months.
Capitalize and budget for products with increasing demand
Make efforts to rank such products and topics related to them
Start link building campaigns on alternatives as well that are unreasonably high-priced and hard to access
Make some room also in budgeting for SEO because the keyword costs of scarce items will increase as their demand increase
4- The world is not ending. People still need to buy products and use services
No matter what you are seeing on Facebook or Instagram, the truth is that the world is not going to end soon.
The only difference between before and now is that people are currently searching more for products they need rather than enjoy or for luxury.
Though SEM is not always a quick fix, social media and Google Ads campaigns can be great options for you.
In short, don't panic and think more clearly as to what kinds of demands are/will be increasing or arising and market your business with right strategies and media, depending on what you offer.
Important Note: Please avoid adopting the strategy of selling products with COVID-19 mention as Google is blocking all such ads. You just need to be the source of products that people need instead of fear. So, act and strategize accordingly.
5- Economic Turndown Means Less Competition (i.e. It's Easier to Get Results)
Economic slowdown is surely not a good thing but businesses need to keep running in one way or another. These times, the competition is less for many things and thus, it's a peak time to grab a hold on deals that will benefit you in the longer-term.
No matter if it will be the same in the coming months/year or we will be living the new normal; more or less, the condition will stabilize after some time. Even then, SEO techniques and strategies will remain effective to reach the worldwide consumers.
If you are not taking SEO lightly during this slowdown, you will surely see great results in the future.
But remember that you don't see excellent results overnight with SEO and it takes time to run an effective SEO campaign. Thus, you should not stop doing SEO even now. All you need is to create an SEO campaign that will provide you with results in the future as well. These results might produce the revenue that your business needs to survive the economic turndown.
Tips for Making Business Marketing Strategies during Outbreak of COVID-19
1- As soon as you react to current downtimes and move your business SEO strategies and marketing around the real-time trends, the more you will benefit from changed consumer behaviour.
2- Set up automated reporting dashboards to keep a close watch on traffic and make informed investments
3- Include "coronavirus", "virus" and "COVID-19" as phrase-match negatives because Google is already blocking ads that are capitalizing on coronavirus. Thus, using these words as negative keywords will safeguard.
4- Apply negative bid modifiers in heavily-affected areas or countries, based on product or service availability.
5- Use traffic monitoring tools, such as Google Trends regularly.
6- Analyze search query reports for broad and phrase match keywords.
7- Monitor shopping campaign traffic using dashboards
8- Check statistics of prevailing conditions and ensure that your ad copy, blogging, and website messaging fully support the wellness of your employees and consumers.
9- Analyze metrics such as Click-Through-Rate and Cost-Per-Click to check if consumer's purchasing and search behaviour is changing.
10- Show your commitment to the health and safety of your workforce, supply chain, and consumers.
In short, SEO is something that can help your business to go through global slowdown caused by COVID-19 with more stability. The world is still here and people are still in need of products and services. So, don't stop marketing your business, get started today and reap benefits tomorrow.
The following two tabs change content below.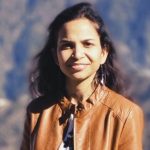 Vijaya Tyagi
Vijaya Raj Laxmi Tyagi has been an avid content writer for over three years with a keen interest in writing SEO articles and blogs. She also finds great enthusiasm in writing about a vast variety of topics, including gardening, interior designing, health & wellness, and tourism. Her educational background in Computer Science and Engineering has given her an edge to write about technologies that tend to mark a great impression on daily lifestyle and behaviour, while her intrigue towards Mother Nature drives her to discuss green topics.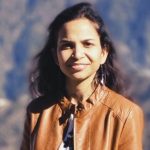 Latest posts by Vijaya Tyagi (see all)