When I come across questions like "How can I increase traffic on my online store?" I am a bit perplexed. I am unable to figure out if people are still sleeping or they have woke up but did not bother to wear their glasses? The very evident fact that digital marketing has become more accessible than it was a few years back is an answer in itself to the question asked above.
However, if you choose to implement the digital marketing strategies for your online store by yourself, you should have a comprehensive knowledge of what search engines are, how they operate and why they update themselves. If you want to prevent yourself from running into this task, which is as quirky as it appears, you may reach out to people who can help you for the same.
At the same time I must not forget to mention that if you have been implementing some digital marketing strategies and they have stopped responding in the manner they used to, it is time you should revive them. The major reason behind such fluctuations in traffic and/or online activity is the changes that Google keeps on making in the search algorithms.
How are you responding to the Google Algorithm update?
Google is a smart search engine. It keeps on updating its algorithms in order to catch and remove the links build due to negative SEO. This doesn't imply that the site looks spammy or poor, but it implies that the site is not driving traffic in a legitimate way. With the update, the website is penalized in the form of link removal, enabling more relevant websites to feature in the search engine results.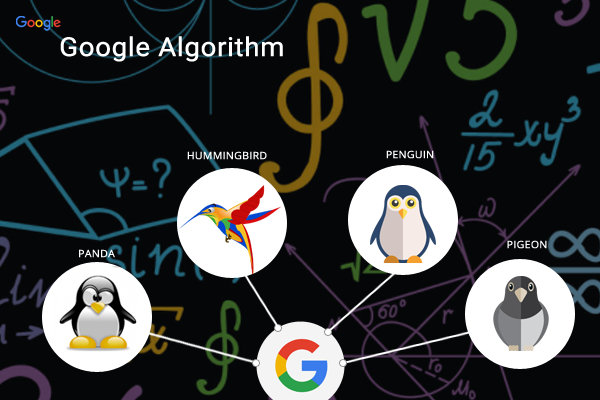 You should always keep in mind that the moment you fluctuations in the traffic, some of your back links were removed. To better combat these updates, the best practice of white hat SEO remains supreme. If you maintain your focus on quality content, distributed using a variety of linking techniques and ensuring on-page is all up to scratch, Google Algorithm update shall not be a worry for you.
How can you fix your website to continue driving traffic, even after the algorithms get updated?
As the focus of the company has expanded from just removing spam contents to enhancing the user experience, the Google algorithms keep on updating every day, sometimes every hour and every minute, but Google never announces the update to the community. This poses a major challenge before the website owners who intend to drive traffic to their websites but are unsure of the changes they need to make in order to avoid being penalized.
You may indulge in a quick search of relevant questions on the web to find out the latest news about Google and its definition of a quality website. The updates usually cover link issues, technical problems, content quality, and better user experience. You shall definitely find out the flaws in your website that have made that penalty come your way.
What is the recent update to the Google algorithm and how has it affected the traffic?
Link building is undoubtedly the most respectable way to drive organic traffic to any website. However, the latest update to Google Algorithm, called Penguin has devasted the negative link building techniques. Before the update of the harshest and the most brutal Google algorithm, many websites had spammy links as a potential source of website traffic. With the update, not only the links will get removed, but also the site will be dropped so far in rankings that it would be same as if it were removed from the directories. This shall adversely affect the site traffic.
With the update, what has gone out and what has come in?
All sites have a certain percentage of back links in their link building profile such as content that doesn't serve your users and adds no value what so ever, unnecessary comments in irrelevant blogs & forums, Building a lot of anchor-text rich links around key terms using spun article marketing, etc. These practices have been thrown out. The better techniques of SEO such as better onsite optimization & internal links, guest posting on relevant blogs, including videos on key pages, infographics, content curation etc. have come in. It is time that farewell is bid to the old, while the new one is welcomed.
Yet, in certain span of time, these new techniques will become obsolete. Unable to figure out why? Perhaps because Google Algorithms shall again get updates with their vision. It is very important to keep yourself educated about what Google looks for in a website. All you need to do is to make sure that your website does not fall into any bad linking traps and continues to enjoy gaining traffic. Rules are no longer meant to be broken.